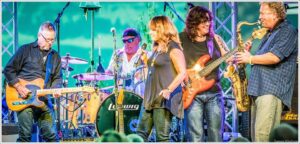 Since 1997 Junkyard Jane has been one of the Northwest's favorite bands with their mixture of Americana, blues, country, folk, funk, rock, and R&B — all in a conglomeration they call Swampabilly. Founding members Billy Stoops and Leanne Trevalyan have been constants with the band, who have included many of the region's top players going through their ranks at one time or another. The band has been honored with numerous award nominations and wins over their tenure from both the Washington Blues Society and the Cascade Blues Association, and Junkyard Jane represented the latter at the International Blues Challenge in 2001 where they reached the finals.
In celebration of the band's 20th anniversary, they have put together a handful of shows featuring their original line-up with horn players Sue Orfield (sax), Randy Oxford (trombone) and Jim King (sax & harmonica), rhythm section Barbara Blue (bass) and Chris Leighton (drums) joining Stoops and Trevalyan.
Their anniversary tour will be heading down to Oregon on Sunday, September 17 with a stop at The Birk, 11139 Hwy 202 in Birkenfeld.  Show time is 3:00 pm show. Get your tickets in advance at Ticketomato.com for $10.00, or pay at the door day of show for $15.00. Expect a lot of songs about whiskey, frogs and all around good times with Junkyard Jane. It'll be a party for sure!