What's on Tap for September's General Membership Meeting …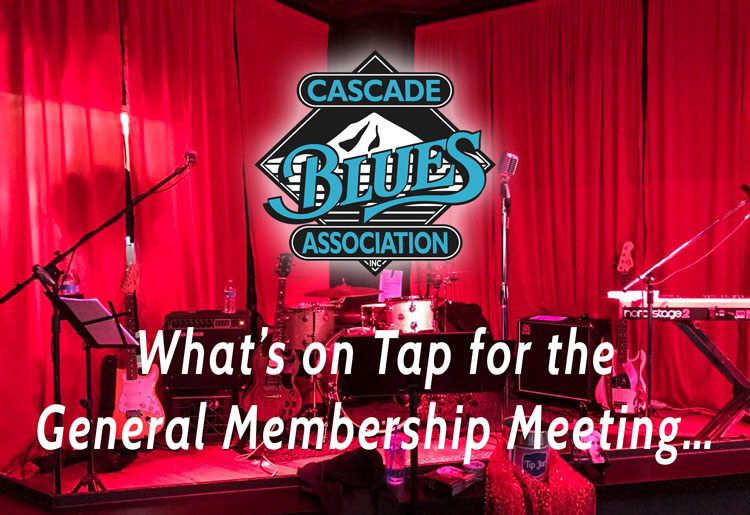 Catfish Lou's, 2460 NW 24th Ave, Portland
Wednesday, September 6 – 7:00 pm
Members always Free ~ Non-members $5.00
Opening Acoustic Set – Mick Schafer & Friends
Second Electric Set – Rose City Kings
Last month was our first membership meeting at Catfish Lou's, and the room was packed. Despite temperatures soaring above 100 degrees. I truly feel that the heat kept some of the members that would normally attend away, so if the weather is cooler this month plan on arriving early because tables and room near the stage will probably fill up quickly.
Please note that with this new format our meetings will need to end about fifteen minutes earlier than they have in the past. This is to accommodate the jam that has been scheduled there prior to our arrival, and the necessary time for stage change-over. We're the new kids at the venue so we plan on making everybody happy. Big thanks to Robbie Laws and the guys for fitting us into their night, and also to Marty Henninger and Ed Neumann who have graciously decided to make things easier for the change time have offered to bring their drums and keyboards for us to use. Marty did this last month and worked out terrifically!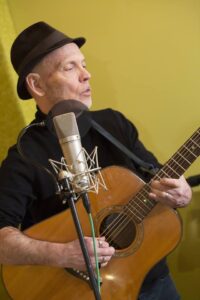 Opening the night will be local guitarist and songwriter Mick Schafer who may be best recognized as one of the co-founders and leaders of the band Tree Top Tribe. He discovered his love for music when he was young. Mick noted that he "really heard my singing voice for the first time in the 8th grade choir at Our Lady of the Valley Church. A couple kids in the pew ahead of me turned around, surprised as I was….. something emotional and resonant." He continued his path, explaining that "later, when I quit school and traveled around Europe performing, I got used to playing in front of audiences. Much later and after fronting for Blackberry Jam and, currently Tree Top Tribe, I am playing solo shows as well."
Though our opening sets are usually totally acoustic, we have strayed on occasion. Mick told us that he'd put together a small group of friends to help out on the night and boy howdy did he ever. Starting off with guitarist Jason "JT" Thomas who just performed for us as a solo act last month, we all know that JT has worked with both Franco Paletta and Lisa Mann the past few years showcasing his guitar prowess. From the Thunder Brothers bassist Timmer Blakely will hold down the pace and drive of the band. Timmer has been a frequent performer with several projects that Mick has thrown together recently. And filling out the group will be guitarist (yes three guitar players!) Ken Scandlyn. Usually Ken would be found touring the country as a member of Shemekia Copeland's band, but during a current break in his schedule he will joining Mick and the guys for what is certain to be a powerfully entertaining opening set for our meeting.
For the second set of the night, don't expect anything to slow down as one of the strongest and most popular acts in Portland will be taking over the stage, the Rose City Kings. When the band first formed back in 2002 they quickly established their spot amongst the elite blues acts in Portland, garnering multiple awards and accolades not only from the Cascade Blues Association's Muddy Awards, but high recognition from well-renowned press outlets like Real Blues magazine.
After taking a hiatus from music, band leader Dan Berkerey decided to bring the group back together about a year ago and they have been hitting the best stages and West Coast festivals since. Dan is an exceptional songwriter and guitarist, but with the new incarnation of the band he brought together some of the city's best musicians, Louisiana-bred pianist Steve Kerin, the electric David Lipkind who has worked his harmonica magic with many bands in Portland, original Rose City King bassist Tim Shaughnessy, vocalist and percussionist Katy Oberg, and drummer Gary Keeney who first hooked up with Dan when the band performed under the name Kolvane. The group released their most recent album, A Love So Strong, about a year ago which has been called a homage to music, love and life.
When it comes to performing, Dan explained about the band and their quest: "My focus is ensuring that we keep what makes Rose City Kings special – whether you're playing a Rose City Kings album or coming to a live performance, it's a great and memorable experience." And you're sure to get that same perspective at our September meeting.
It's a great night each and every month. And now that we're holding court at Catfish Lou's you have the opportunity to sample their food selections from their Southern themed menu. Plus we'll still be having our free ticket drawing and winner-take-all multiple CD raffle. So don't miss out on any of our meetings, especially this month because it is going to be a big time fun night!
https://cascadebluesassociation.org/wp-content/uploads/2017/07/whats-on-tap_catfish.jpg
515
750
Wendy Schumer
https://cascadebluesassociation.org/wp-content/uploads/2020/10/CBA_Logo_top_main.png
Wendy Schumer
2017-08-28 17:19:09
2019-02-21 14:29:38
What's on Tap for September's General Membership Meeting …