Ramblings On My Mind – September 2017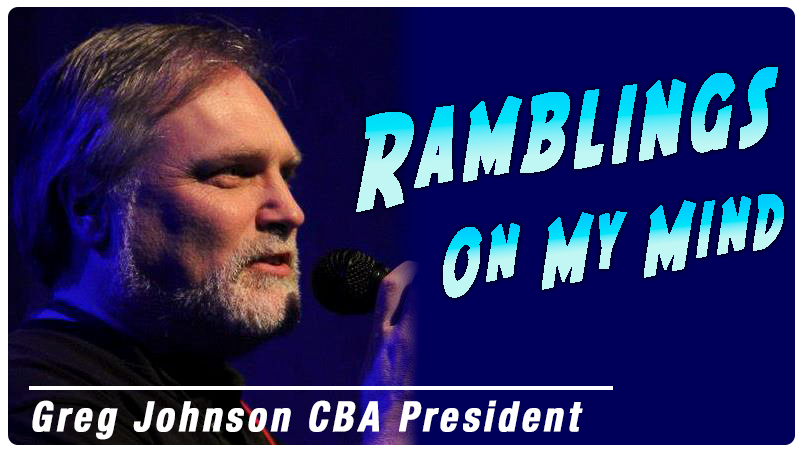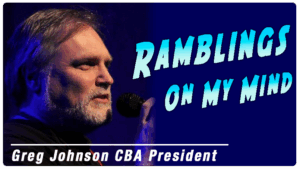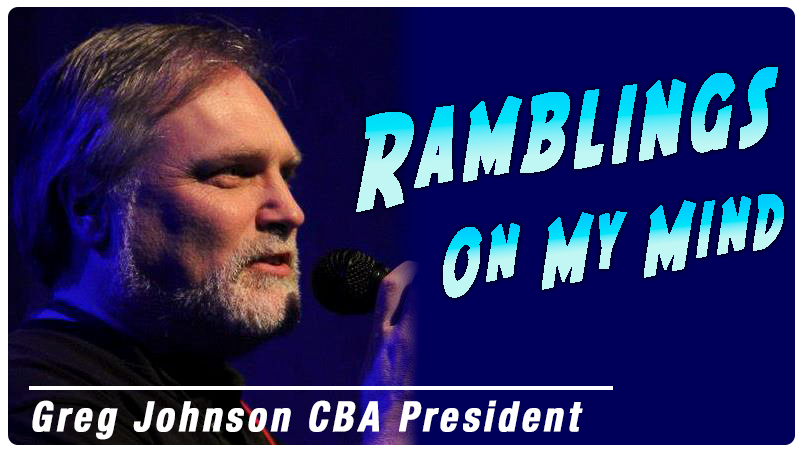 Greg Johnson / CBA President
Goodbye Melody Ballroom and thank you. Well, we knew that the day was probably going to come eventually, and it did for us in late July, just a couple weeks prior to our August meeting. We met with the manager of The Melody Ballroom and learned that in order to remain being able to use the room for our monthly meetings we would have to take on a rental fee each month. At this time, it just is not feasible for us to do so. We had just held a large 30th anniversary concert at The Crystal Ballroom in order to help us raise funds to keep the organization financially stable to get by, so absorbing this extra expense would become a hardship for us.
Fortunately for us, Michelle Bean stepped in and has given us the use of Catfish Lou's for our meetings. Though the room is smaller and we cannot have all ages, it is very much appreciated as it allows us to keep our meetings going on as originally scheduled, with the exception of having to replace a couple under-age acts. We will work on finding a way to showcase them, however.
The Melody Ballroom was home for the CBA monthly meetings for more than 25 years, all donated to us by the original owner Kathleen Kaad. That same set-up was given to us the past six months by the new owners, but with the expenses they are incurring with the purchase of the building and renovations, they simply were not making enough to cover their expenses being open to us for our dates.
It is a huge loss to us, but in the long run we cannot be angry by this decision. 25 years is a long time and very generous. The Kaads and the staff became like family to our group and we will miss them. But we will always have amazing memories of the times we had at The Melody Ballroom.
The list of artists who performed at our meetings there is lengthy. A virtual who's who of the Portland blues community over those years. We also had performers who would travel from places like Seattle, Spokane, Eugene, Northern California, Idaho and every point between. National artists like Geoff Achison asked to play for our meeting, as well as Ralph Borqvist of the Blueass Blues Band from Sweden.
Not only are there memories of our meetings that took place there, but also the Muddy Awards and special events that we held and those that we helped co-sponsor. We had the CBA's 25th anniversary and a Blues in the Schools fundraiser show there. We numerous touring musicians like Little Charlie & The Nightcats, James Harman, Floyd Dixon, Earl King, Brandon Santini and Sean Carney to name a few. We sponsored Bill Rhoades annual Harmonica Summit events, the Inner City Blues Festival and helped promote others such as a concert with the late Michael Burks.
We truly had a tremendous relationship with The Melody, and even at one point being offered space to rent for our offices when we had to move. They enjoyed having us that much. And they still wanted us to be there each month. We simply cannot afford it. But we will be back for this year's Muddy Awards show. It may be a little different due to the reconstruction of the upper ballroom, but it is going to take place there rest assured.
It is sad to leave a home that we have had for so long. But we are thankful for all the time and the memories they have provided us. We will continue to make memories with our meetings. It's just another chapter in the life of the CBA. Thank you to everyone at The Melody Ballroom, past and present.
https://cascadebluesassociation.org/wp-content/uploads/2017/05/Ramblings_2017.png
453
805
Wendy Schumer
https://cascadebluesassociation.org/wp-content/uploads/2020/10/CBA_Logo_top_main.png
Wendy Schumer
2017-08-28 17:17:01
2017-08-28 17:17:01
Ramblings On My Mind – September 2017