2017 CASCADE BLUES ASSOCIATION MUDDY AWARDS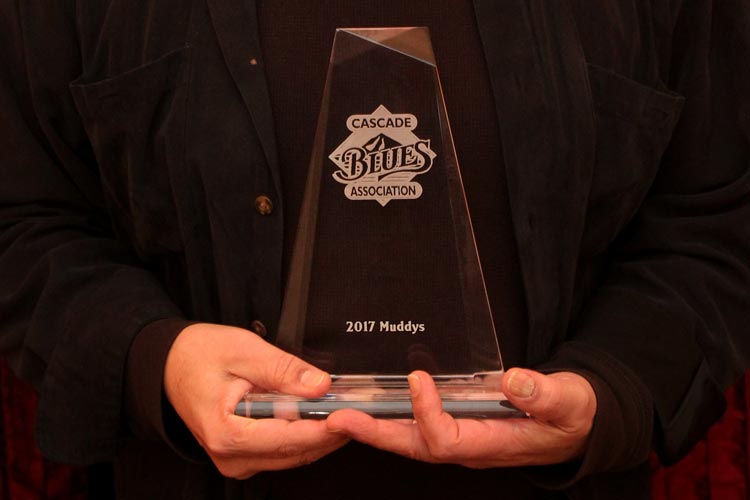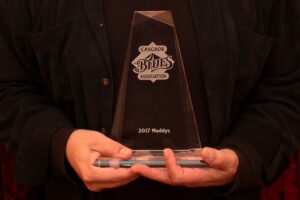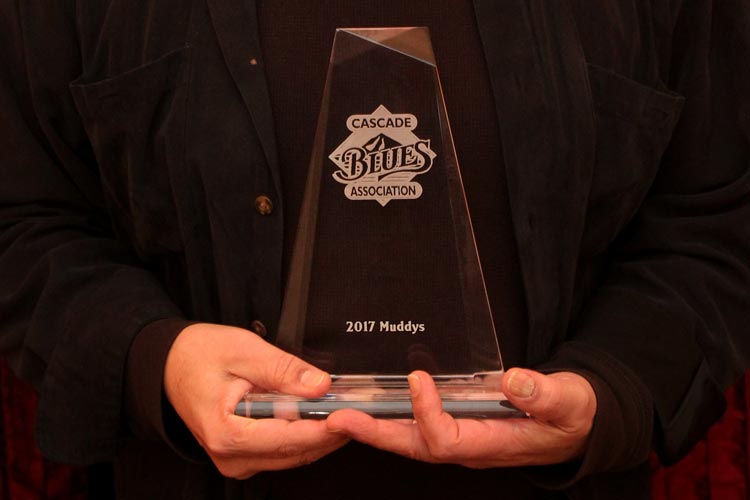 The Cascade Blues Association's annual celebration of our local blues musicians, events, recordings and venues, The Muddy Awards, was held on Wednesday, November 1 to an enthusiastic audience at The Melody Ballroom. Twenty-two awards were handed out recognizing outstanding achievement as selected by the CBA members.
Highlights of the event included three artists being inducted into the Muddy Awards Hall of Fame for having taken their respective categories three consecutive years: Ben Rice Band for Traditional Blues Act; Andy Stokes for the "Curtis Salgado" Male Vocalist; and Brian Foxworth for the "Jimi Bott" Drums. Norman Sylvester was awarded the "George Page" Back What You Believe In Award for his continual efforts with Healthcare For All Oregon, the Inner City Blues Festival, and taking music into the schools and retirement homes. Terry Robb was selected this year for the "Paul deLay" Lifetime Achievement for his career not only as a musician, but as a teacher, producer and engineer in the studio working with artists including the late John Fahey, Sheila Wilcoxson, The Lightnin' Kings' latest recording, and many others. Curtis Salgado was honored with the Performance of the Year for his magnificent appearance at the Waterfront Blues Festival, his first following a heart attack and heart surgery.
And you know, the Muddy Awards would not be a true celebration without music. Opening the night we were treated to a set by Journey To Memphis winners Sister Mercy. An All Star Muddy Awards Band was pieced together by this year's band leader Sonny Hess. She put together a sensational jam that included Ben Rice, Brian Foxworth, Dave Melyan, Doug Rowell, Fenix, Franco Paletta, Jim Hively, Kathryn Grimm, Kelly Pierce, Kevin Selfe, Kivett Bednar, Lady True Blue, LaRhonda Steele, Lisa Mann, Rae Gordon, Randy Monroe, Rich Layton, Robbie Laws, Scott Franklin, and of course Sonny Hess herself.
A huge thanks to The Melody Ballroom; JBL Sound; Cedar House Media; Just Right Awards; Big Screen Productions; Sonny Hess; photographers Marilyn Stringer, Tony Kutter, Kathy Rankin and Greg Johnson; Wendy Schumer for her work on the slide presentation and program creation, volunteers Sandy Forst and Coila Ash for working the admission door; the CBA Board of Directors; and most of all our membership.
Congratulations to all the nominees and recipients!! You're all winners!
2017 Muddy Award Recipients
Contemporary Blues Act – Rae Gordon Band
"Lloyd Jones" R&B Act – Norman Sylvester Band
Traditional Blues Act – Ben Rice Band
Regional Blues Act – Ty Curtis
New Act – Lightning Kings
"Curtis Salgado" Male Vocalist – Andy Stokes
"Duffy Bishop" Female Vocalist – LaRhonda Steele
Electric Guitar – Alan Hager
"Terry Robb" Acoustic Guitar – Mary Flower
Bass – Timmer Blakely
Harmonica – Mitch Kashmar
Keyboards – Steve Kerin
"Jimi Bott" Drums – Brian Foxworth
Horns – Peter Moss
Venue – Catfish Lou's
"Hurley" Award – Charles Rowell
NW Event of the Year – Cascade Blues Association 30th Anniversary Concert
Performance of the Year – Curtis Salgado at the Waterfront Blues Festival
NW Recording of the Year – Rae Gordon "Better Than I Was"
National Recording of the Year – Karen Lovely "Fish Outta Water"
"George Page" Back What You Believe In – Norman Sylvester
"Paul deLay" Lifetime Achievement – Terry Robb
https://cascadebluesassociation.org/wp-content/uploads/2017/10/2017_muddy_award-2.jpg
500
750
Wendy Schumer
https://cascadebluesassociation.org/wp-content/uploads/2020/10/CBA_Logo_top_main.png
Wendy Schumer
2017-11-23 12:20:17
2017-11-29 09:47:15
2017 CASCADE BLUES ASSOCIATION MUDDY AWARDS