2019 Muddy Awards Return to The Alberta Rose Theatre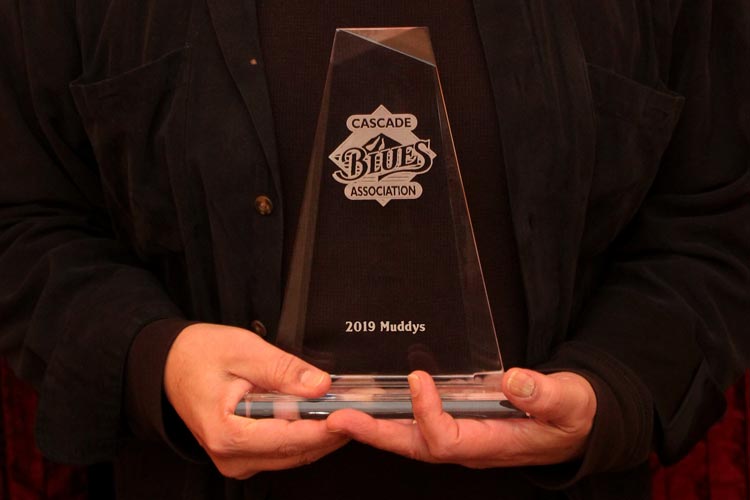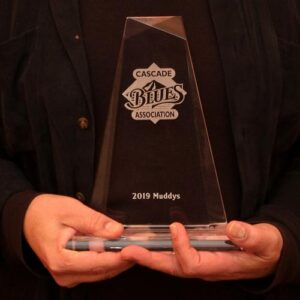 The Cascade Blues Association is pleased to announce that our signature event and one of the most anticipated evenings in the blues regionally, The Muddy Awards, will be held at The Alberta Rose Theatre on Wednesday, November 6. Twenty-two awards honoring the favorite musicians, recordings, events and more as selected by our members will be announced throughout the night. The awards will be presented by musicians, CBA board members and other recognized individuals from the blues community.
And as if the awards themselves were not reason enough to attend, there will be music, and plenty of it. Scheduled to perform this year (in order of appearance) will be Journey To Memphis winners Johnny Wheels & The Swamp Donkeys, Rich Layton & Tough Town, Tevis Hodge Jr., Vintage Soul, and Terry Robb. All are 2019 Muddy Award nominees. And we'll conclude the evening with a Muddy All Star Jam, led by Lisa Mann and Ben Rice, with guests including Kim Field, LaRhonda Steele, Louis Pain, Michael Osborn, Dave Fleschner, Dave Melyan and more TBA – once again 2019 nominees all.
Alberta Rose Theatre, 3000 NE Alberta St, Wednesday, November 6, 6:30 pm. Advance tickets are $10.00, CBA members are Free but seating is limited so be there early. All ages welcome.
2019 Muddy Award Nominees
Contemporary Blues Act:
Ben Rice Trio
Rich Layton & Tough Town
Sister Mercy
"Lloyd Jones" R&B Act:
Fenix Rising
Ken DeRouchie Band
Norman Sylvester Band
Traditional Blues Act:
Ben Rice Band
Kim Field & The Perfect Gentlemen
Michael Osborn
New Act:
Kim Field & The Perfect Gentlemen
Vintage Soul
Young Guns Of The Blues
Regional Act:
Gabriel Cox
Johnny Wheels & The Swamp Donkeys
Polly O'Keary & The Rhythm Method
Too Slim & The Taildraggers
"Duffy Bishop" Female Vocalist:
LaRhonda Steele
Lisa Mann
Rae Gordon
"Curtis Salgado" Male Vocalist:
Ben Rice
Brian Foxworth
Lloyd Jones
Electric Guitar:
Ben Rice
Doug Rowell
Jason "JT" Thomas
"Terry Robb" Acoustic Guitar:
Ben Rice
Mary Flower
Tevis Hodge, Jr.
Bass:
Ben Jones
Lisa Mann
Timmer Blakely
Keyboards:
Dave Fleschner
Louis Pain
Steve Kerin
"Jimi Bott" Drums:
Brian Foxworth
Dave Melyan
Edwin Colman III
Harmonica:
Franco Paletta
Kim Field
Rich Layton
Horns:
Chris Mercer
Joe McCarthy
Pete Moss
Venue:
Blue Diamond
Catfish Lou's
The Lake Theater & Café
Northwest Recording:
Lloyd Jones Struggle – Full Force
Rich Layton & Tough Town – Salvation Road
Terry Robb – Confessin' My Dues
National Recording:
Bobby Rush – Sitting On Top Of The Blues
Christone "Kingfish" Ingram – Kingfish
Sugaray Rayford – Somebody Save Me
Northwest Event:
Gorge Blues & Brews
Jim Mesi Memorial Concert at The Elks Lodge
Winthrop Rhythm & Blues Festival
Performance of the Year:
Christone "Kingfish" Ingram at Waterfront Blues Festival
Sugaray Rayford at Waterfront Blues Festival
Vanessa Collier at Waterfront Blues Festival
"Paul deLay" Lifetime Achievement:
Frankie Redding, Jr.
Louis Pain
Steve Pringle
"George Page " Back What You Believe In award:
Chris Hamann
Cory Burden
Julie Amici & Dean Mueller
The "Hurley
" 
Award:
Ken & Susan Johnson
Tracy-Turner Pain
Terry Currier
https://cascadebluesassociation.org/wp-content/uploads/2019/10/2019_muddy_award.jpg
500
750
Greg Johnson
https://cascadebluesassociation.org/wp-content/uploads/2020/10/CBA_Logo_top_main.png
Greg Johnson
2019-10-30 08:58:26
2019-11-26 10:42:58
2019 Muddy Awards Return to The Alberta Rose Theatre