AC Porter is a Live Wire on the Portland Blues Scene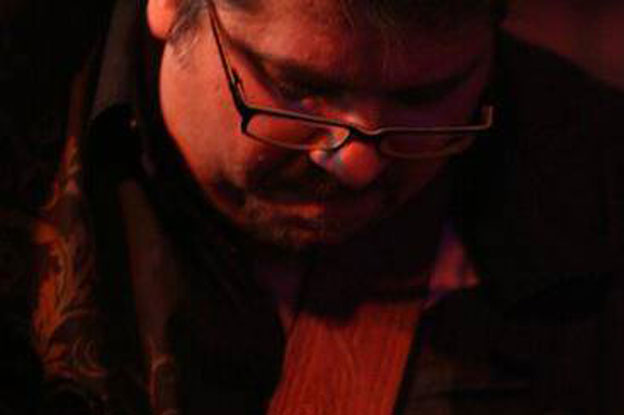 By Laurie Morrisey
AC Porter is quite the character. In addition to being a great musician, when asked where he was born and raised, he responded, "I was born under the third ring of Saturn at a planetarium in Stockholm. Wait, that's where I was conceived. I was born down the road apiece, in Eugene. Been in PDX since 1990—back when it was still a super cool lil' city."
AC says his music has "lots of room for improv within simple chordal structures, all blues oriented, even the slightly jazzy stuff." His advice to other musicians is to "play it with dynamics, emphasis on interplay with an ensemble of great musicians, and above everything else, try to play with as much passion and emotion as you can connect with—they can be quiet passions, aggressive, frustrated, sexy, poignant, wistful, whatever—but put yourself inside it as much as possible. Hard to put into words, but an aware audience can feel it when you do it—so can the players."
AC Porter is known around town as one of the great guitar player—mainly electric. "I could live a thousand years and not learn everything there is to learn about it, that's for sure. Vocals are a work in progress—much more 'naked' when it comes to the voice." He is a self-taught musician, and also taught by the examples from many other artists and fellow musicians. He had two years of theory that gave him some basics.
AC describes himself as a semi-pro musician. "I've been getting 'paid' to play for about 30 to 35 years. I think I likely used the fact that I made a bit of side money with music to justify my guitar habit, back in the day—I've got that much more under control these days. Probably because I can't afford it."
AC also has a day job. "Ever since I was 16 I have worked various jobs, and have had a union job in a healthcare facility the past 16 years. Lab work. Nothing fancy, but keeps the wolves at bay. Like I said, it costs a lot to play the blues these days. And since I'm not a trust fund/legacy/fortunate son, and I haven't met that magical nurse with a purse, I will continue to work, and gladly. It's good for the soul (sometimes!)—helps to keep a semi-pro musician with dreams of self-delusional grandeur humble and grateful. Keeps all that clapping and validation of one's art in perspective."
"I'd like to think I just love to play, whether it is for money or fun is of little consequence. I've evolved on that over the years, and believe if you can play at a level that people come out to see you, you SHOULD get paid—however, and this is not earth-shattering news—players are still getting the same pay, often, as they were getting from the clubs back in the 80's and 90's. Which means, of course, that due to prices and inflation, most musicians I know have been moving backwards as far as financial reward. It costs a lot to play the blues anymore—ironically."
But even though music may not be profitable, it has always been a part of AC's life. "I was always drawn to music. I literally grew up in a radio station from about 2 to 10 years old—KASH 1600. The building was the closest entity or structure to the Lane County dump back then. Very isolated, actually. My grandparents owned the station, and let my mom and I live in a small apartment on the property. I remember lots of sheep out there, and filbert trees. I also recall bugging the DJ's and borrowing records. A lot. It's part of Alton Baker Park now. Long gone."
AC Porter says his musical influences include his dad, who was a jazz trombonist. "He named me after his favorite bone player, Curtis Fuller (the C in AC), and although he split when I was too young to remember him, he left behind some great jazz records—Coltrane, Miles, Monk, Ornette—and I listened to those cats and many other 'discoveries' I searched for—especially in high school, where I was surrounded by SERIOUS young, talented jazz players—many who would go on to thriving careers in playing and teaching at prestigious places. I was very lucky to be in that environment, as I didn't have the skills, chops, or discipline, but I was definitely influenced by those co-students. Thank you, Matt Cooper! (Pianist extraordinaire). I still buy and listen to a fair amount of jazz from the 40's on."
"More conventionally, I was into Led Zep, Santana, Hendrix, Jeff Beck—- add the uniqueness of two of my fave artists of all, Zappa and Tom Waits, and that's the early days of AC's influences."
"Then, about 21 or 22, I started hitting blues jams, and Bill Rhoades, Curtis Salgado, Lloyd Jones, Jimmy Cochran, Jim Wallace were all blowing this youngblood's mind at Eugene blues haunts like Taylor's and Max's. Wallace and Rhoades really turned my head onto the real deal blues stuff, and I was a goner from the 80's on. Got pretty heavy into The Kings, especially Albert and BB, Hollywood Fats, SRV and bro Jimmie, Albert Collins, and Magic Sam—you know the deal. A little late to the party, but I stayed for the duration!"
Awards
"Awards—best thing about them? A symbol of validation and recognition. But I struggle with the concept of them as well—I mean it's impossible to quantify someone's music or art as being the 'best', right? As Muddy himself said, 'You can never be the best musician—you can only be a good one.' That sums it up for me."
"Now, having said my piece on that conundrum, I am the proud recipient of two awards from members of the CBA over the years—both for Best New/Reformed Act—one when I was with Bill Rhoades and the Partykings (shout out to his kings and queens he has playing with him these days) and one in 2011 for The Livewires—very nice. We were nominated this year for Best Traditional Act, and it went to that awesome guy Ben Rice, and deservedly so."
"But the nomination I value most, was the year the CBA included me in the category for electric guitar. I was surrounded by players I absolutely love and look up to—Robbie Laws, Suburban Slim, and Jim Mesi that year—that was a gigantic honor, as a guitarist."
CD's
AC doesn't have any CD's out, but he's on a track or two of Norman Moody's Moody Waters. "If, and it's kind of a big 'if' at this point, I do a CD, I'd like it to be mostly live, with warts and all. A lot of blues albums these days, to MY ears, sound a bit too canned and 'carefully crafted' to the point that it strips away the soulful vibe that I absolutely am in love with on older recordings, even with their imperfections and 'bad' notes on occasion. Now, if I can have somebody make it sound like Mule Variations (Tom Waits) or Wicked Grin (John Hammond—produced by Tom Waits—see a trend? Lol) —then I'd be in heaven. Otherwise, I'll let the live shows be those 'moments in time' that they were meant to be. Plus, I need to get off my butt and write more worthy tunes."
AC Porter has played with a long list of local blues musicians. "It's blues, so pretty much everybody that can lay claim to being a blues player in Portland. But pretty long 'history' with Bill Rhoades, definitely Jim Wallace, Stu Kinzel and Lynnann Hyde."
He said he's shared the stage with an abundance of local players. "It's truly RIDICULOUS how much talent is right here. I've played with Whit Draper, both Johnny Moore's, Jim Mesi, Timmer Blakely, John Neish, Duffy and Chris, Rick Welter, Kevin Selfe, Paul DeLay, Norman Sylvester, Doug Rowell, Big Monti, Lloyd Jones, Curtis Salgado, Don Schultz, Allen Markel, Dave, Kahl, Peter Dammann Jimi Bott, Suburban Slim, Jolie Clausen, Jeff Strawbridge, Katie Angel, Mitch Kashmar, Lisa Mann, Rae Gordon, Ashbolt Stewart…See? It's getting kinda long in the listing department. I could go on for two more paragraphs, locally."
"Also, I have sat in with Little Charlie Baty (The Nightcats) on numerous occasions over the years. One of my favorites, and memories I'll cherish until dementia sets in. And Junior Watson (Well, he watched while I played his incredible gear with his bandmates…at least he was smiling.) Those two can put a lump in any normal guitarist's throat, I'll tell you that."
Bandmembers
"I'm super lucky to be surrounded in my lil' ol' band by stellar musicians who 'get' it, when it comes to playing blues, and really LIKE blues, not just using it as a means to a musical or economic end. I've played with guys like Whit Draper, who I think is the absolute most underrated roots/blues/swing guitarist in Portland. And as humble as anyone could ask for. Just outstanding talent and a great human. Timmer Blakely, who's been playing almost every Tuesday night with us for a while—busy man, with multiple bands and one nighters—easy to hear why—great ears, and sensitive to what's going on around him like few I've played with. John Moore—it just ain't the Livewires without his crushing shuffle and enthusiasm EVERY time we play. On many Tuesdays at the Blue Diamond, Dennis Lusk will join us on keys, as well, which adds a different dimension to the 'edge' of the band."
In Closing
In all his words, the line that may sum it up, "I'm a lucky guy when it comes to music around here." No, Portland blues fans are the lucky ones.
https://cascadebluesassociation.org/wp-content/uploads/2016/11/ACPorter.jpg
415
624
Wendy Schumer
https://cascadebluesassociation.org/wp-content/uploads/2020/10/CBA_Logo_top_main.png
Wendy Schumer
2016-11-26 13:47:58
2016-11-29 18:23:52
AC Porter is a Live Wire on the Portland Blues Scene