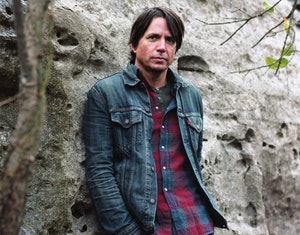 Since his arrival as a solo artist in 1993 and his self-titled debut on Capricorn Records, Texas music star Ian Moore's journey has been one of perpetual forward motion and constant change. That record included the hits, "Satisfied," "Blue Sky," and even featured the track, "Harlem," which rap icon Ice Cube made in to a music video. Now twenty-four years later and a series of recordings under various labels, Moore has released his fourteenth album, Strange Days. Birthed from channeling the influences from his childhood, soul music and the blues, while carrying forward all the hard-earned life lessons acquired on his journey that allow him to infuse these songs with a depth that only comes from many years and miles. Moore's ability to straddle genres like a Neil Young or a Jack White is obvious. By paying tribute to such luminaries as Curtis Mayfield, Otis Redding, Aaron Neville (even covering "Hercules"), and Sly Stone, IanMoore can offer music politically charged at times, as well as the heartfelt love song filled with emotion and purpose.
Ian Moore will be touring Oregon for a trio of dates with his full band in early August.
On Tuesday, August 8, the band will be performing at Springville Cellars Winery in Hood River. Located at 13 Railroad Avenue, show time is at 8:00 pm. Contact the venue for admission information at 541-308-0700.
Wednesday, August 9 will find the band in the eastern part of the state, playing at the Roy Raley Ice Rink in Pendleton for their Wednesday in the Park concert series. The location is 1205 SW Court Street, beginning at 7:00 pm. Free.
The Ian Moore Band will be coming to Portland on Thursday, August 10 for a 9:00 pm show at Mississippi Studios, 3939 N Mississippi Avenue. Tickets for this 21 & over concert are $16.50 advance through Ticketfly.com, or $20.00 day of show.