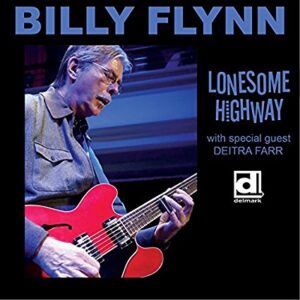 Billy Flynn
Lonesome Highway
Delmark Records
There is a good reason why Billy Flynn has been one of the most requested guitarist in Chicago and elsewhere. He just knows how to play with just the right number of notes with the right tone and is flat out tasteful in everything he bring forth from his strings. For nearly five decades (Flynn was first noted by the legendary bluesman Jimmy Dawkins when he was just 14 years old) he has worked with an amazing array of superb musicians such as former Muddy Waters sidemen in The Legendary Blues Band, Otis Rush, Mississippi Heat, and Kim Wilson. He has appeared onstage with Keith Richards, Eric Clapton, and even Beyonce, the latter who he also performed with for a song from the film Cadillac Records that won a Grammy Award.
Lonesome Highway is Flynn's tenth solo project and his first for the renowned Delmark Records label.  He is backed by a terrific cast of Chicago-based blues artists that include the great Roosevelt Purifoy on keys, E.G. McDaniel on bass and Dietra Farr providing vocals on a couple of tracks. Flynn himself handles multiple duties, aside from guitar and vocals he also plays some percussion and harmonica.
Song selections are all original by Flynn, with the sole exception of Billy Page's "The 'In' Crowd" originally made famous by the Ramsey Lewis Trio which he has presented done as a well-executed instrumental.  As a songwriter, Flynn is also exceptional and has a variety of directions he puts forth on Lonesome Highway. Stand out numbers include "If It Wasn't For The Blues," "Small Town," "Jackson Street" and another instrumental "Blues Express." Actually, this is a great disc filled with highlights from start to finish. And with seventeen tracks and nearly 70 minutes of music, that adds up to a lot of highlights.
Billy Flynn may not be a household name to everyone who enjoys the blues. But he should be. A musician and songwriter that holds his own very well with the best of them. Lonesome Highway is a disc that should be heard and will convince those who do just how tremendous an artist that Billy Flynn truly is.
Total Time: 69:53
Good Navigator / If It Wasn't For The Blues / Small Town / Lonesome Highway / The "In" Crowd / Never Had A Chance / Waiting Game / Hold On / The Lucky Kind / Jackson Street / Long Long Time / The Right Track / You Are My Lover / I Feel 'Um / Blues Express / Sufferin' With The Blues / Christmas Blues
https://cascadebluesassociation.org/wp-content/uploads/2017/04/Billy-Flynn-CD-cover.jpg
425
425
Greg Johnson
https://cascadebluesassociation.org/wp-content/uploads/2020/10/CBA_Logo_top_main.png
Greg Johnson
2017-04-26 21:03:51
2017-04-28 08:44:42
Billy Flynn