Board Update November 2021
Board Update November 2021
by Shelley Garrett
Mini Muddy Awards, 6 p.m. Wednesday, Nov. 3
We are very excited to bring this event back for 2021 as the "Mini Muddys." We are lucky to have secured a location that is centrally located, COVID friendly and no cost to us. (Note: The Alberta Rose is already locked in for 2022!)
Music sets by the Ben Rice All-Stars and Rae Gordon's "Original Music Hour." Celebrity presenters include Mary Flower, Arietta Ward and Terry Currier. Read the event write-up for a list of this year's nominees and complete details! Tickets are available now
Officer Elections
While all positions are up for election, there is a critical need for president, vice president and membership director.
If you are interested, please send an email with your "Intent to Run" noting the position you are running for to Brad Bleidt at cascadebluesstaff@gmail.com
by 11:59 p.m. Nov. 10. Brad will be communicating more information soon!
Planning Subcommittee
Brad Bleidt led the first brainstorming meeting in mid-October, then presented the mission statement and priorities to the full board, which approved them. See below:
MISSION STATEMENT:
A nonprofit organization committed to the promotion and preservation of all varieties of blues, Americana, and roots music.
SUBCOMMITTEES:
BluesNotes (chair: TBD) Randy, Anni, John Taylor
Media/Communication Strategy (chair: Nolan) Marie, Brad
Diversity (chair: Marie) Robert, JP Peterson, Larhonda Steele, Wendy Schumer
Quarterly Events (chair: Robert)
Partnerships & Venue Development (chair: Brad) Marie, Shelley
Survey (chair: Nolan) Marie
Grant Writing/Revenue Generation (chair: Brad) Marie, Randy
Acquisition & Assets Priorities (chair: Brad)
By-Laws (chair: Brad), Marie
Institutional Knowledge (chair: tabled until after officer elections)
The committees are forming now, so if you are interested in joining the conversation and guiding the direction of the CBA, please reach out to the lead (Brad Bleidt) or send an email to cascadebluesstaff@gmail.com
CBA co-sponsored shows at the Lovejoy Rooftop at Botanist
The next CBA co-sponsored show at Lovejoy Rooftop at Botanist will be in December (music TBD). When Brad and Marie approached JP Peterson and we all met to brainstorm in June, the initial plan was for the CBA to cosponsor one event a quarter. CBA members and the blues community have done such a great job of supporting this effort, that we are striving to plan one show a month!
Artichoke Music Collaboration
Brad, Marie and Shelley met with Artichoke Executive Director Bob Howard. Topics included planning co-sponsored shows at the Artichoke Café, potential board meeting space and/or storage space at their location, and opportunities for CBA member musicians to teach classes or hold workshops there.
Nolan Johnson
Please welcome new at-large member Nolan Johnson! We will have his bio in the December post.
Sugar Roots IBC Fundraiser
Mark your calendars for an IBC fundraiser, Nov. 27 at the Garages. Sugar Roots is going to be the CBA representative at the IBC in Memphis in January, and they estimate their expenses at around $12,000. Come out and support them if you can! More details in the event write-up.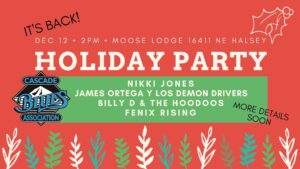 Holiday Party
"Save the Date:" Dec. 12 at the Moose Lodge, 16411 NE Halsey. Anni Piper has scheduled the music (Nikki Jones, Billy D & the Hoodoos, James Ortega Y Los Demon Drivers, Fenix Project).
Jeanette Aglipay started working on the silent auction, and YES members are asked to bring DESSERT! More details to come next month!
Michael Bean- RIP
The entire CBA Board sends its heartfelt condolences to Michelle, Morgan and Matthew. Michael and Michelle have supported the CBA in so many ways.
Chris Hamann Celebration of Life
Please note that this event has been postponed.
Blues for Slim Lively — A Benefit for Greg Johnson, Oct. 17
Close to 50 volunteers were needed to make this event a success! The CBA volunteer team, Richard LaChapelle, Belinda Clark and Jeanette Aglipay sent many emails and made many phone calls to fill all the shifts. This event went off without a hitch and raised money for Greg and Cherie. I noticed Cherie was out shopping for a van to accommodate Greg for transport to PT, doctor appointments, etc. A big thank-you to all the CBA members who signed up, showed up and got the job done!
From Shelley
On a personal note, I want to thank all of you for the supportive emails, Facebook comments, calls and messages this year as we kept the CBA running (and thriving) without Greg.  It means a lot!
https://cascadebluesassociation.org/wp-content/uploads/2021/10/Board-UPDATES-e1633364003899.jpg
405
720
Shelley Garrett
https://cascadebluesassociation.org/wp-content/uploads/2020/10/CBA_Logo_top_main.png
Shelley Garrett
2021-10-31 10:09:36
2021-10-31 10:09:36
Board Update November 2021