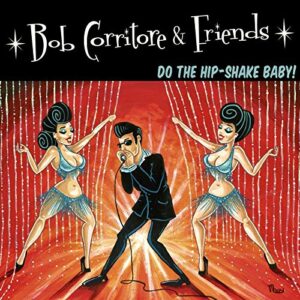 Do the Hip-Shake Baby!
Vizztone
By Randy Murphy
Bob Corritore is a harmonica demon, and on his new release, "Do the Hip-Shake Baby!" he's positively possessed. But his harmonica action is not the only attraction on this follow up to his 2018 album "Don't Let the Devil Ride" — it's Corritore's roster of nearly thirty-five A-list musicians and singers who barrel onto the center stage in this remarkable recording, and hold on to it the whole way through.
When Corritore says "friends" — he means it. The role call of first-rank blues performers include Sugaray Rayford on two superb tunes, "Trying To Make A Living" with Junior Watson on guitar and the gospel-infused "Keep The Lord On With You," with Kid Ramos's haunting guitar setting up a muscular counterpoint to Corritore fierce harp licks. It's intoxicating, heady stuff and though every cut on this album is a dead winner, and singling out two or three seems silly, the two tracks with Rayford are worthy of special note.
Another treat here is a cover of Junior Parker's "Stand By Me" that highlights Alabama Mike's amazingly sublime and soulful vocals. Other performer on the disk include guitarist L.A. Jones, bassist Tony Tomlinson, and drummer Jim Klinger. This list of laudable performers, though, is much too long to include here.
On top of all this, the production values, courtesy of Mr. Corritore, is exceptional; so good in fact that I've not come across too many releases this year that would rival it. My advice? Go get this recording now.
Total Time: 49:19
Shake Your Hips / Gonna Tell Your Mother / Bitter Seed / The Twist / You Better Slow Down /  Worried Blues / Love Deep As the Ocean / Trying to Make a Living / Stand By Me / I'm Gonna Keep What I've Got / I Got The World in a Jug / Few More Days / Keep the Lord on With You
https://cascadebluesassociation.org/wp-content/uploads/2019/11/81MPIfBmRzL._SS500_.jpg
500
500
Greg Johnson
https://cascadebluesassociation.org/wp-content/uploads/2020/06/CBA_Logo-header2-300x66.png
Greg Johnson
2019-11-28 01:19:29
2019-12-02 18:32:18
Bob Corritore and Friends