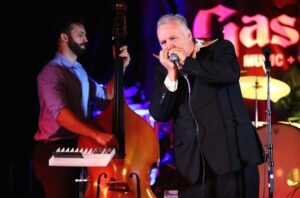 As a co-founder (w/ brother Bill Clifton) of Fresno's The MoFo Party Band, John Clifton has solidified himself as one of Central California's most in demand blues frontmen since he started in the late '80's.  His from-the-gut vocal, harmonica presence, and high energy performances have captivated audiences worldwide. Hitting the road hard since the early days and performing over 150 dates a year, John regularly tours in the U.S. and has headlined some of the most well-known venues and festivals throughout Europe and throughout the islands of New Zealand and Fiji. With style and prowess on the level of renowned harp masters as Kim Wilson and Rod Piazza, John has always kept it real with his own voice and identity and never set out to be a copy of any of his musical heroes. As a showman he delivers straight from the heart, soul and gut, staying clear of the typical clichés and novelties.
"You've got to work hard to make it look this easy and hard is where He starts. He knows how to light up a show with intensity, and doesn't know how to quit—so he doesn't . With the electricity turned up to 11, you can count on John Clifton to electrify you!" – The Midwest Record
John Clifton will be bringing his West Coast harmonica stylings back to Oregon for two nights while touring in support of his latest recording, Nightlife.
The band will start the short tour in Oregon in Eugene at Mac's Night Club, 1626 Willamette Street, on Thursday, October 25 at 8:00 pm. Contact the venue for admission information.
On Saturday, October 27, John Clifton will be in Portland for a show at Catfish Lou's, 2460 NW 24th Avenue. Show time is 8:00 pm and admission is $5.00 at the door.