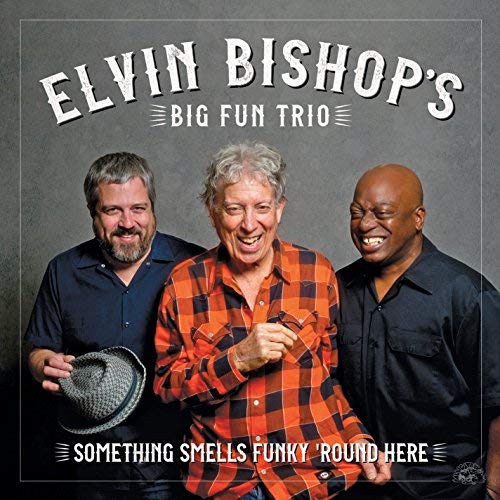 Something Smells Funky 'Round Here
Alligator Records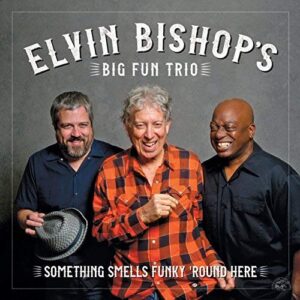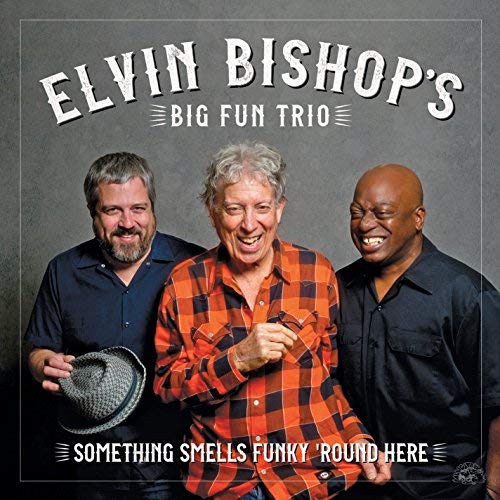 As with the debut release of Elvin Bishop's Big Fun Trio, this sophomore recording, Something Smells Funky 'Round Here, is loose, intimate, and sounds very spur of the moment. And most of all, as the name of the group implies, it is a lot of fun. Elvin Bishop is the leader of this group of friends. His guitar and voice are unmistakable and instantly recognizable. He is joined by Bob Welsh, a longtime standout musician from the Bay Area on keys and guitar, and Willy Jordan on cajon and vocals.
Opening the disc, there is nothing hidden or any double entendre with the group's title track. It is a direct slap in the face toward modern situations in politics and he is stating it outright that "Something Smells Funky 'Round Here." Of course Bishop has never been one to hold back his thoughts on social issues in the past, and even if it is serious he has his own way of placing a touch of humor into the message too.
When you're seemingly improvising in the studio, you're often going to put out covers of older material. Nothing wrong with that and this trio gives first rate offerings of several. The Jackie Wilson trademark number "(Your Love Keeps Lifting Me) Higher And Higher" is presented with a nice shuffle beat that's almost like reggae and Jordan reaching some high marks with his vocals. He does so again with the Don Bryant-penned "I Can't Stand The Rain." Dave Barthelomew's "Another Mule" is an often broached upon theme and these guys do it every bit as good as anyone has. And Bishop also dips into his own music from the past reviving "Right Now Is The Hour" from his 19878 album Hog Heaven.
Instrumentals rock the house on the album a couple times. Welsh really goes to town on the instrumental "Bob's Boogie" in pure barrelhouse fashion. Bishop's guitar takes center stage on "Stomp" while Jordan puts out just the right pace with cajon.
Bishop has occasionally included anecdotes over a simple-paced instrumentation on his recordings where he basically speaks his mind spinning stories about his life and the people he has known. He returns to that process on "Lookin' Good" spinning the story of his sobriety. And as you would expect, it is filled with his own brand of humor.
Closing out the disc is "My Soul" that showcases all of the players with terrific singing from Jordan again. It is the only number on the album that features a guest, with Andre Theirry working the accordion to this Cajun flavored song.
Something Smells Funky 'Round Here is exactly the type of encore recording that you would want following their Grammy nominated debut. Guaranteed to put a smile on your face and a tap to your toes. Nothing but fun and good natured blues music to be found here.
Total Time: 35:55
Something Smells Funky 'Round Here / (Your Love Keeps Lifting Me) Higher And Higher / Right Now Is The Hour / Another Mule / That's The Way Willy Likes It / Bob's Boogie / I Can't Stand The Rain / Stomp / Lookin' Good / My Soul
https://cascadebluesassociation.org/wp-content/uploads/2018/09/Elvin-Bishop-CD-cover.jpg
500
500
Wendy Schumer
https://cascadebluesassociation.org/wp-content/uploads/2020/06/CBA_Logo-header2-300x66.png
Wendy Schumer
2018-09-26 14:59:26
2018-09-27 14:46:34
Elvin Bishop's Big Fun Trio