Run Get My Shotgun
Big Legal Mess Records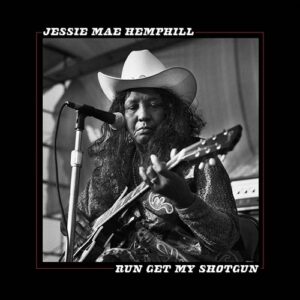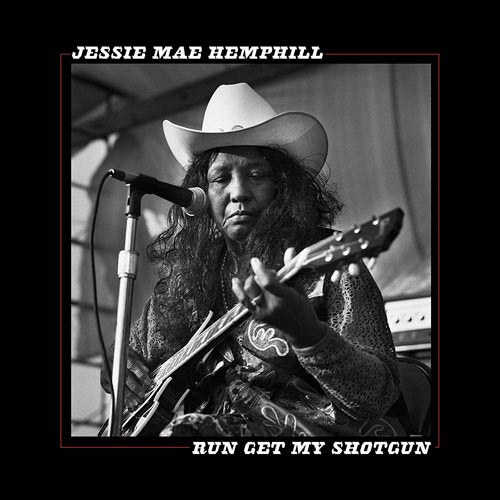 I'm a sucker for the Mississippi Hill Country Blues of R. L. Burnside, Junior Kimbrough, Fred McDowell, Ranie Burnette, and of course, Jessie Mae Hemphill. This particular genre of  blues possesses an urgent intimacy that can not be faked. Its mesmerizing pulses of rhythm and stripped-down musical structure provides a stalwart vehicle for the expression of raw, often brutal, emotion. Like muddy flood waters spilling over a dam, a gritty authenticity gushes from this music.
And Jessie Mae Hemphill was a master of Hill Country Blues. Hemphill, who passed away in 2006, was a member of Mississippi blues royalty — the great granddaughter of the revered fiddle player Dock Hemphill and granddaughter of bandleader Sid Hemphill, one could use the cliché here and be entirely justified: The Blues was indeed in Hemphill's blood.
This new album, "Run Get My Shotgun," of hitherto unreleased songs was recorded on New Year's Eve, 1989 and is a soulful and righteous collection of field recordings that verify just how powerful a performer Hemphill was. Her voice migrates effortlessly from the angry resentment of the title track "Run Get My Shotgun" to the hypnotic in the gospel-infused "Holy Ghost," to soulful longing of "Married Man Blues," as she pleads for her man to "please don't go." But as compelling as her voice is, her exquisite guitar skills are no less impressive, particularly on the cuts "Train Train" and "Feelin' Good."
For any fan of Mississippi Hill Country blues, this album is a fine example of the genre and its possibilities. Highly recommended.
Total Time: 34:29
Run Get My Shotgun / Shame On You / DC 9 / Go Back To Your Used To Be / Holy Ghost / Married Man Blues / Train Train / Nothing That You Say / Feelin' Good / Eagle Bird
https://cascadebluesassociation.org/wp-content/uploads/2020/04/jessie-Mae-Hemphill.jpeg
500
500
Shelley Garrett
https://cascadebluesassociation.org/wp-content/uploads/2020/10/CBA_Logo_top_main.png
Shelley Garrett
2020-04-30 17:48:46
2020-05-03 08:20:32
Jesse Mae Hemphill