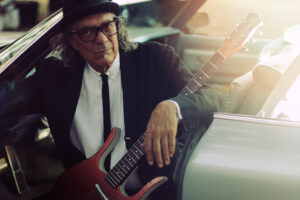 For four decades, Johnny Nicholas has showcased his consummate musicianship and vocal skills and graced live music scenes across the country and abroad. The list of legendary musicians with whom he's worked and performed alongside reads like a who's who for blues and roots music, including artists such as Mississippi Fred McDowell, Howlin' Wolf, BB King, Muddy Waters, Willie Nelson, Eric Clapton, and Bonnie Raitt, among many others. In fact, he gave guitarist Ronnie Earl his first gig, letting him play in his then band Guitar Johnny and the Rhythm Rockers. Nicholas also spent time as the lead vocalist and multi-instrumentalist for the Grammy Award winning band Asleep At The Wheel.
"Johnny Nicholas is one of the best bluesmen ever, black or white." ~ Stephen Bruton
Scrappy Jud Newcomb is a Mississippi boy who hit Austin in the late eighties as a young guitar virtuoso, and has since evolved into a pillar of the local scene. He became the go-to guitarist in  the music city for both studio and on-stage work. He can play anything, with anybody, at any time, and when it comes his turn you'll want to hear every phrase, every nuance, every lick. He'll close his eyes and slip somewhere far away, and the beauty will just pour from his fingers like praise from a mother's lips.
Johnny Nicholas and Scrappy Jud Newcomb have been touring together for some time now and will be appearing for an encore performance following their well-received gig at The Lake Theater & Café this past January on Monday, September 25 at 7:00 pm. Advanced tickets can be found online at Laketheatercafe.com for $15.00 general admission or VIP tables seating four closest to the stage for $80.00. The Lake Theater & Café is located at 106 N State Street in Lake Oswego.