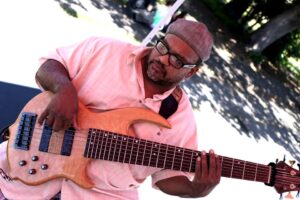 Salem-based bassist John Pounds has long been a favorite on the Oregon music scene, so when he suffered a stroke in March 2016 a lot of his friends and fans stepped forward to help him out with a handful of benefit shows. But it has been a long hard path to recovery for John and he still could use some assistance, so a number of friends are coming together again for a special showcase happening at Kathken Vineyards on Sunday, September 17 from 1:00 pm until 8:00 pm.
Throughout the day, expect to see DaBoiz with Jack Hopfinger; Gary Burford with Dave Fleschner, Boyd Small, Bob Beck and Lloyd Jones; Still Water Vibes; Rae Gordon with Garry Meziere, Bill Foss and Ed Neumann; Sonny Hess with Lady Kat and Lisa Mann; Drawback Slim, and many more.
Admission for the John Pounds Benefit are $15.00 and can be purchased in advance by calling the vineyard at 503-316-3911. All ages are welcome. Kathken Vineyards is located at 5739 Orchard Heights Rd Ne in Salem.