Lady True Blue – Lady Kat
Soul Barin' Blues
Self Produced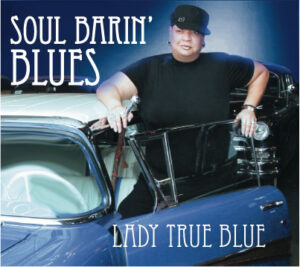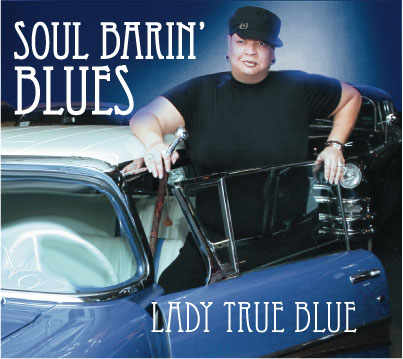 The aptly named Soul Barin' Blues delivers the goods!
The first thing heard on the new Lady True Blue CD is the purr of the singer also known as Lady Kat, and a spoken introduction. It's unusual, and friendly – setting the tone for 12 songs that are exactly what the title promises: Soul Barin' Blues. Putting on this CD is like inviting a friend into your living room for a drink, to talk about life, and to hear her story. And what a life story it is…
"My name is Lady Kat, but you can call me True Blue," she purrs, throwing wide open the invitation to join an intimate party where secrets will be shared, friendships celebrated and a soul revealed.
Once inside the CD you'll love partying with her pals – a who's who in the best of Portland blues led by Sonny Hess, who also produced the CD and brought her longtime bandmates Kelly Pierce on drums and Jim Hively on bass. Guest artists include two-time BMA winner Lisa Mann, Peter Dammann, Renato Caranto, Leah Hinchcliff, Ward Griffiths, Bobby Ferrante, and LaRhonda Steele.
She kicks things off with her fan's favorite "Shade Tree Mechanic" a sexy, playful tune that grabs you by the ears and gives you a shake. She's naughty, funny and everything your best friend should be. Every song reveals another layer of her deep honeyed voice, with nuance and style that is hers alone. From the classics, "Thrill is Gone" and "Heartache Tonight" to an inventive bluesy rendition of Radiohead's "Creep" the Lady shows she has what it takes to make the old very new, and the new instantly classic. When she croons "I don't care if it hurts, I wanna have control" you believe it. And you want more. You get it – by the shovelful. When "Woke Up This Mornin'" comes on, I dare you to keep yourself from singing along with the gospel dished out with incredible backup by LaRhonda Steele, Sonny Hess and Lisa Mann.
It gets personal, including some relaxed conversation that opens a window to the long friendship between Hess and True Blue. She says they have a "Sweet Little Angel" watching over them, referring to Paulette Davis, the local blues goddess and central figure in both their lives, who died in an accident in the early 90s as her career was blossoming. She also mentions Paulette in the song "Blues is My Medicine," and "Any Woman's Blues" which were both co-written by Hess and Davis. She turns the classic "Drift Away" into a tribute to the friendship she shares with Hess, singing "give me the beat Son" in a way that is affectionate and lovely. It's the song collaborated on by Hess and True Blue that earns the CD title that will rip your heart out – with the story of childhood abuse and neglect that is the very essence of the blues, and of the rise of strong women from the seeds of misery, sung with tenderness and defiance.
Soul Barin' Blues is an intimate peek into the lives of women who have lived the blues and found a way to make it sound beautiful, hopeful and a reason to dance. Listening is like making friends with Lady True Blue and her very cool companions. Together they make some music that counts and is well worth the time to listen.
Review by Nancie Hammond