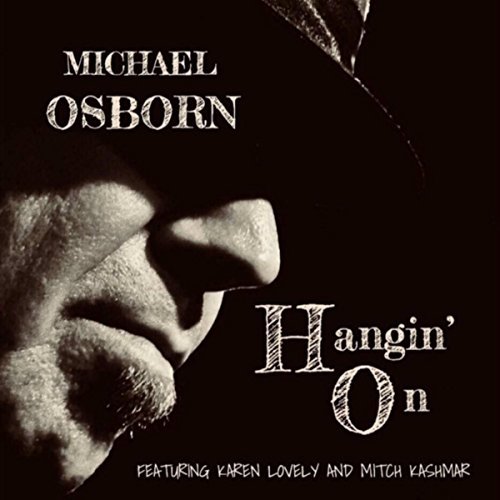 Hangin' On
Checkerboard Records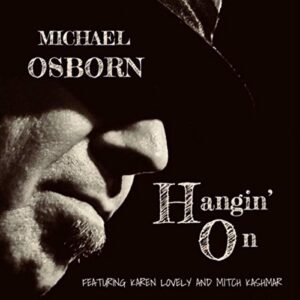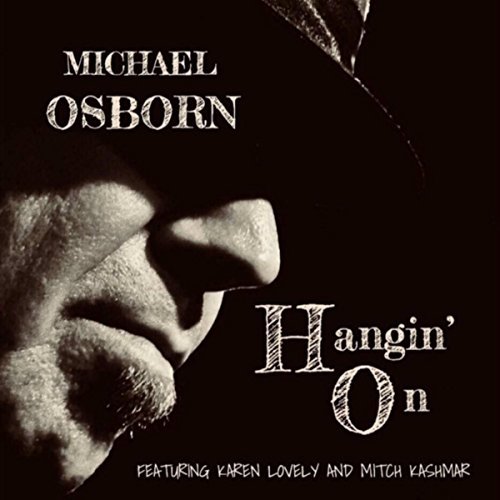 Michael Osborn is certainly no stranger to the blues world. His guitar playing is impeccable. Not so hard to believe when you grow up with friends like the Ford Brothers (Robben, Mark, and Patrick), work with stellar musicians such as Sista Monica and Bill Rhoades . . . oh, and then there's that thirteen year gig working as band leader and guitarist with John Lee Hooker. He has also appeared on stage and recording with people Robert Cray, Bonnie Raitt, Carlos Santana, Charlie Musselwhite, Elvin Bishop, Albert Collins, James Cotton, and a list that is quite endless of world-renowned artists. Yes there is that background, but what it really comes down to is that Michael Osborn can flat out play a very fluid guitar with a mighty tone. There is something there that just catches your ear and stands out from the first note of every song he plays. Top that off with some brilliant songwriting and you have the full package. No question about it.
Hangin' On is Osborn's eighth recording released under his own name and the fifth on his own label, Checkerboard Records. And to these ears, though I have found no fault with any of his previous discs, just may the finest material he has ever laid down in any studio setting. The flow is delivered perfectly in the order of the tracks. From the burning, stinging guitar note opening on the title track, you follow him through rocking blues numbers, to slow churning guitar pieces, to love numbers, and an instrumental, all are ear candy that makes you want to revisit them again and again.
Michael Osborn wrote all the numbers, with a couple of collaborations from Karen Lovely and another from former Portlander, current resident of Nashville Tom Szell. The people involved with the recording are all noted Portland artists that register like a who's who of the local blues scene. Osborn carries all of the guitar duties as he should, and provides some terrific vocals six tunes and bass on a couple more.
Karen Lovely, who co-wrote two pieces takes on the vocals with remarkable excellence that are definite highlights of the album, especially with the lovely (pun not intended) "Say I Do" which will forever be used in wedding ceremonies due to its tenderness, meaningnessful and beautiful performance.
Mitch Kashmar is sensational with his lead vocals on "Hey Baby," coming across like the number was written with him directly in mind, and he tears into some pretty mean sounding harmonica work on both this and the closing number "Between A Tear And A Good Time."
Osborn's band The Drivers are represented on "When I Listen To The Blues," with KG Jackson working the bass and Dave Mathis blowing harp while they trade lead vocals with Osborn. John Moore, also a longtime member of The Drivers plays drums on all tracks, except "Between A Tear And A good Time.".
And looking at the cast members on the disc as a whole, how can anything go wrong when you have Dave Fleschner on keys, Don Campbell on bass, Dave Melyan on drums, Gregg Williams on percussion and the amazing horn workings of Joe McCarthy, Brad Ulrich and Chris Mercer. As I said, this is the elite team of Portland musicians.
Michael Osborn is without doubt the center of it all. His guitar playing drives this album. Listen to the instrumental "Mint Gin" and there is proof right there that his years of playing with the best was no fluke. In fact, it was all of those other people who were playing with one of the best. Michael Osborn has never stood so tall and in control of his craft. Hangin' On is an album that is memorable and will stand the test of time. Beautifully done, blues at its best.
Total Time: 43:03
Hangin' On / It's Your Move / Fallin' For You / Hey Baby / When The Blues Comes Around / Doctor Please / Say I Do / When I Listen To The Blues / Mint Gin / Between A tear And A Good Time
https://cascadebluesassociation.org/wp-content/uploads/2018/06/Michael-Osborn-CD-cover.jpg
500
500
Wendy Schumer
https://cascadebluesassociation.org/wp-content/uploads/2020/10/CBA_Logo_top_main.png
Wendy Schumer
2018-06-26 13:57:57
2018-06-29 12:06:22
Michael Osborn