Mojo Holler — Bringing Mississippi Delta Blues to Portland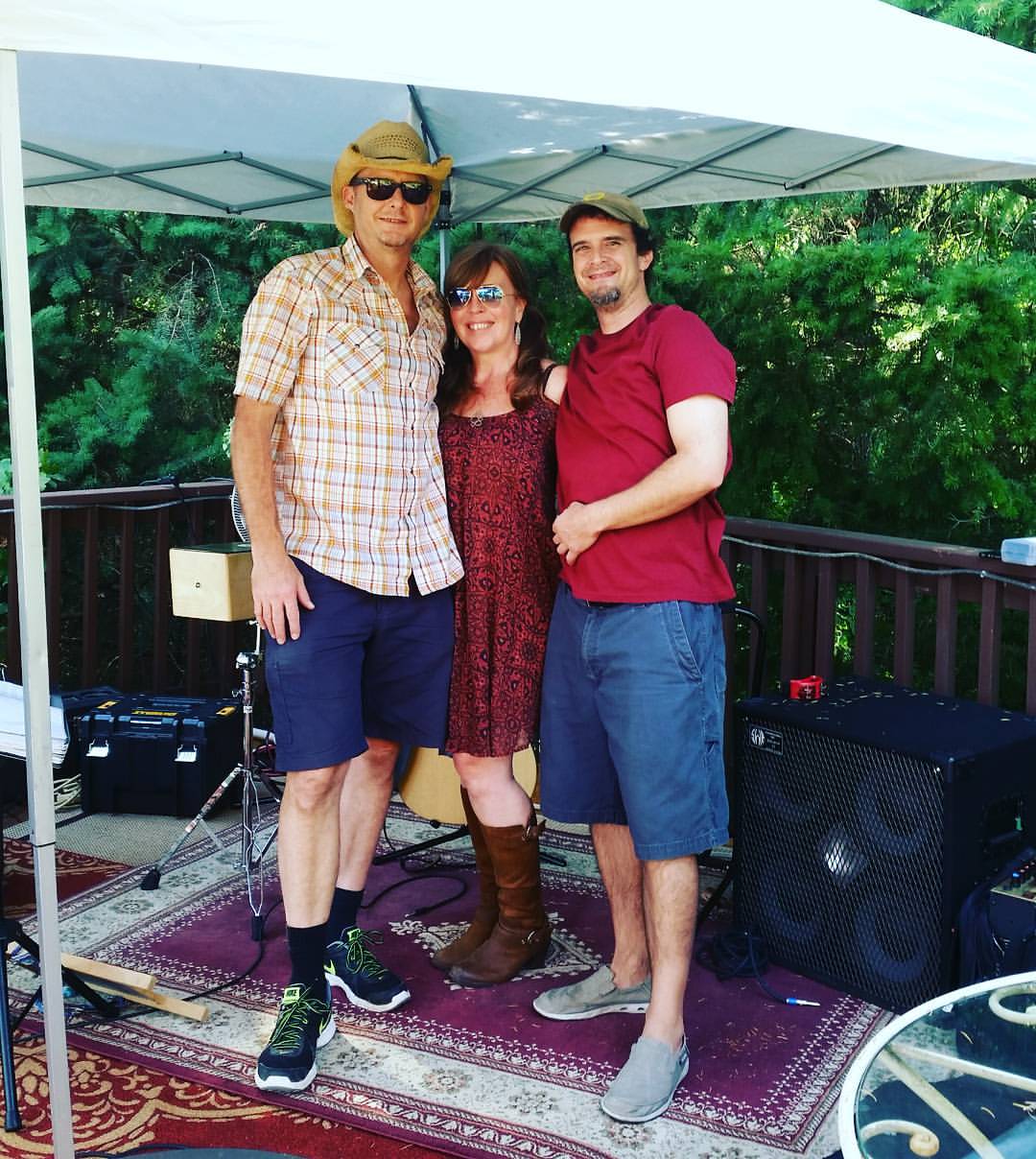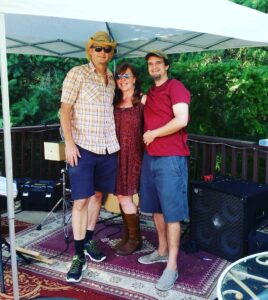 "It started in August 2011. On our first date, a huge meteor fell right over the Willamette River as we were going for the first kiss. Not kidding! So, we took it as a sign and started making music together that very night," said Missi Hasting of Mojo Holler. Some may remember them as Missi & Mister Baker, but since 2016, they've been known as Mojo Holler. "It was really just a name change. We wanted a name that was easier to remember and that would allow us to broaden to more band members," Missi said.
Mojo Holler performs as both a duo and trio. The duo consists of Missi Hasting as lead singer, on rhythm guitar, or on washboard, and John Baker on vocals and on lap steel and guitars. As a trio, they add Eric Shirazi on vocals and bass guitar. "His addition to the mix increased our ability to explore bluegrass harmonies. His bass guitar adds an infectious groove."
Missi describes their music as "roots Americana, but it's a weave. There are a lot of threads: Mississippi Delta blues and Appalachian folk, southern outlaw country, rhythm and blues, and plain ol' rock-n-roll. We like to believe we're also weaving in some magic by trying to stay focused on love and respect. We see our shows as a chance for folks to let go of the frustrations and negativity that seem to be prevailing in our culture, and just enjoy the music and remember to love each other."
The pair released their debut album, Where Black Ravens Flew, in late 2014, and were tapped to showcase at South By Southwest in 2016. Its founder, Louis Black, said of the pair: "Why Missi had to move to Portland from Austin in order for The Bakers to channel their inner Mississippi Fred McDowell, I do not know. But she did, and they did." The album combines complex rock guitar and country stylings with rich vocals that hearken Joplin and Fleetwood Mac.
Missi and John are both Oregon transplants. Missi was born and raised in Maryville, Tennessee. She later lived in Austin, Texas, where she raised her children, then she moved to Portland in 2011. John was born and raised in Upland, California, forty miles east of Los Angeles, and he moved to Portland in 1991.
John and Missi were destined to become performers. Johns says, "I became infatuated with pop music, particularly Elton John, around the fourth grade. I was obsessed with him—not just the music, but also his delivery. I started taking piano lessons and did pretty well, not because I was learning theory, but because I could imitate Elton. At the end of sixth grade, I was voted 'Most Likely To Be Elton John' in the yearbook."
"I played rock guitar in high school. But in 1987 I read an article in the Los Angeles Times about Robert Johnson, and that was a huge turning point for me—suddenly, the origins of rock and roll were clearer. I went that day to Rhino Records and walked away with a stack of Johnson and Howlin' Wolf LPs."
"The slide was my language. I knew that voice and I could speak it, too. I came to Portland in '91 and was at the Blues Fest that year checking out Paul deLay. I embraced the blues scene immediately and started playing in bands here and there."
"In 2001, I made a replica of a Hawaiian-style lap steel guitar called a Weissenborn. Ten years later, I met Missi and started listening to her songs, and I thought, they're tailor made for that guitar. We constructed our initial sound around the slide, and it has become a signature for us."
Missi talks about her first love of music, "From early on, I remember listening to Casey Kasem's American Top Forty every Sunday for three hours. God's honest truth: I whispered 'I'm gonna be on there someday. I'm gonna be on there someday,' while I listened and sang along."
"So, for much of my childhood, my exposure to music was through radio and my parents' LPs. My father was a fan of rhythm and blues, and I was deeply enamored with Gladys Knight. After my parents' divorce, my mom married an acoustic guitarist with a fabulous talent for vocals and harmony. I sat at the feet of some amazing musicians in our living room who played folk and southern rock, and that's where I learned to harmonize."
"Later, my stepfather made a change and entered seminary in Ft. Worth, TX. I was immersed in church music, and spent twenty years singing in religious projects. Gospel music, combined with a lot of country/western and Americana, really paints my voice the color it is. I've got Tennessee and Jesus in my DNA, and you can hear it."
"I have performed in some form or fashion my whole life, whether in music, improvisational comedy, musical theater, public speaking, or as a fill-in radio host on a tiny AM gospel station."
"Austin, Texas taught me respect for blues music and musicians. In Austin, live music is everywhere, and I learned a lot by just sitting quietly (and sometimes even crying) while listening to these diverse, legendary artists like Jon Dee Graham, Pinetop Perkins, Marcia Ball, and Slaid Cleaves. There they were, playing for dimes in small rooms, and I got to be right up close and personal. I learned, by watching them, that making music is something you have to commit to do, whether you make some money or not. So I just wrote my songs and waited for the day my kids were grown up so I could live on less money and do music without harming anybody else in the process."
John lists his musical influences as Ry Cooder, Hubert Sumlin, Buddy Guy, Son House, and Reverend Gary Davis.
Missi said, "I'm a big fan of Mississippi Fred McDowell and his wife, Annie McDowell. Annie doesn't get a lot of attention because she stayed behind the scenes. But the woman could really sing the blues and gospel, and her voice was like a beautiful cat's. Fred was playing gospel in the mornings and blues at night. Annie was singing a lot of those gospel songs along with him."
"Patty Griffin's 1996 album Living With Ghosts shook me to the core from a songwriting perspective. She taught me that I can tell the whole truth if I'm willing to wail and not be afraid of myself. Sometimes, the truth ain't pretty, but it needs to be told. I've had some shit happen (including a child who was in prison for many years) and writing songs and singing lets me tell my stories without being interrupted," she said.
A new album is in the works for 2018. Missi says the new songs are acoustic. "Our last album was plugged in with a lot of electric vibes. This one is more porch style."
This is an act you need to put on your list of "must see." For more information and a listing of upcoming shows, visit www.mojoholler.com.
https://cascadebluesassociation.org/wp-content/uploads/2017/05/Mojo-Holler-press-photo.jpg
1208
1080
Wendy Schumer
https://cascadebluesassociation.org/wp-content/uploads/2020/10/CBA_Logo_top_main.png
Wendy Schumer
2017-09-24 19:07:15
2017-09-26 08:27:15
Mojo Holler — Bringing Mississippi Delta Blues to Portland