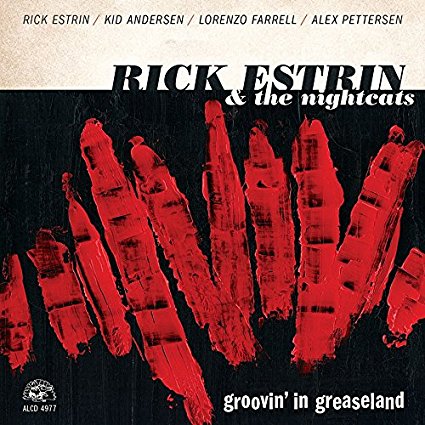 Groovin' In Greaseland
Alligator Records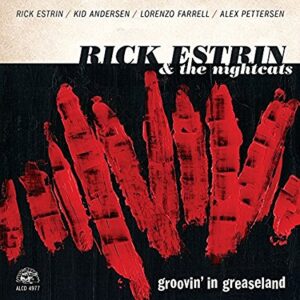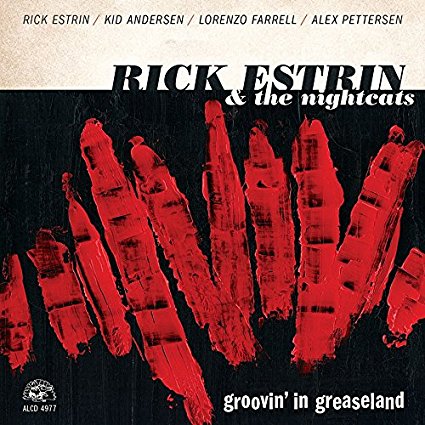 Anybody who has listened to Rick Estrin over the past few decades already knows that this man is perhaps the most witty songwriter in the blues. He has a gifted craft for spinning words that are humorous and stinging, full of wit. Oh, and he's a pretty mean harmonica player, too! All of that is once again evident in the latest release from Rick Estrin & The Nightcats titled "Groovin' In Greaseland. The Nightcats are definitely one of the most talented blues bands going when you consider guitar master Kid Andersen, longtime keyboardist Lorenzo Farrell and drummer Alex Petersen pulling out no stops in their performances alongside Estrin's harp and vocals. The bass licks are handled by various players including Joe Kyle Jr on half a dozen tracks, Jerry Jemmott and Kid Andersen covering three apiece and Robby Yamilov on one.
It is very fortunate for the band to have Andersen as a key member as he is also the owner, producer, mixer, engineer, multi-instrumentalist, dish-washer, and all-around do-it-all guy at one of the finest recording studios going, Greaseland Studios in San Jose. Plenty of musicians in Northern California always seem to be on hand when needed at the studio and we see people like Nancy Wright, Kyle Jester, Aki Kumar and Terry Hanck all among those dropping by to lend a hand with this recording.
The album opens with a commentary letting everybody know that "The Blues Ain't Going Nowhere." Estrin churns this number out on a chromatic as he informs us all that there's no reason about the genre dying as the blues is gonna live without even trying.
There are many typical Estrin lines that just fall natural in his mind.  I was "Looking For A Woman" when I met you, so he's no stranger to seeking somebody new, he just needs to put himself back into circulation. He states that he has seen more action than a Saturday night, but he isn't bragging because "I Ain't All That" but I'm alright. In "Big Money" he calls out those who feel that they have it all because they have the money to live a high life. They have a lot of class but he says it's all low. In "Living Hand To Mouth" we have all been in this situation where we keep working hard for a living but we just can't seem to get ahead. "Dissed Again" is another tale of not getting anywhere, maybe a little more personal for him this time as seen from a working musician's view.
Groovin'  In Greaseland is everything that you have come to expect from Rick Estrin & The Nightcats. Memorable storytelling that rates amongst the best of Estrin's career.  Over the top musicianship from the entire band.; there are three instrumentals on this album and plenty more solo breaks that are more than convincing of that fact. Destined to become a favorite and one of the most popular albums of the year, expect to be hearing a lot of this broadcast on blues radio for months to come.
Total Time:  54:38
The Blues Ain't Going Nowhere / Looking For A Woman / Dissed Again / Tender Hearted / Mwah! / I Ain't All That / Another Lonesome Day  / Hands Of Time / Cool Slaw / Big Money / Hot In Here / Living Hand To Mouth / So Long (for Jay P.)
https://cascadebluesassociation.org/wp-content/uploads/2017/08/Rick-Estrin-the-Nightcats-CD-cover.jpg
425
425
Wendy Schumer
https://cascadebluesassociation.org/wp-content/uploads/2020/10/CBA_Logo_top_main.png
Wendy Schumer
2017-08-28 17:16:13
2019-11-01 10:25:17
Rick Estrin & The Nightcats