Ramblings on My Mind – April 2020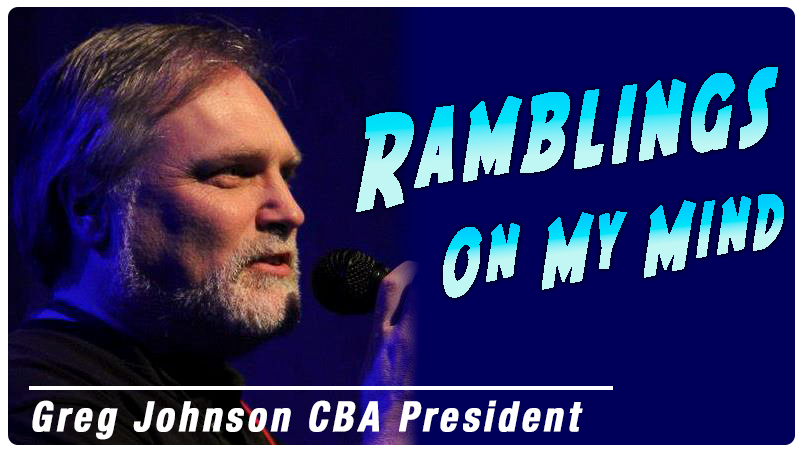 by Greg Johnson,
Cascade Blues Association President
Making the decision to cancel our membership meeting for April was truly tough. In the 19 years that I have been president, we have only had to cancel twice before. Both of those dates were weather-related due to snow and/or ice making it dangerous to travel. There may have also been conflicts on dates where we just moved the meeting to make things work out. But never before have we had to deal with something like a pandemic and having the governor make the decision for all events of 250 or more people be cancelled. Though we have not had meetings come close to those numbers in some time, we felt that it was prudent that we also take the precaution to make certain everybody in attendance are safe. Please note that both acts scheduled for the April meetings were contacted in advance for their input whether to play for the April date or not. Both agreed to be rescheduled for a later meeting during the year. We are sorry for this occurrence and hopefully things will turn around so we do not see any further cancellations from not only ourselves, but the local venues and those musicians scheduled to play as well.
This does not by any means say not to attend events. There are plenty of local venues that do not have the room capacity to reach 250. But with that said, be your own decision maker. If you want to avoid crowds of any size, we're not here to judge you. Nor should anybody else. Just follow the standard precautions to ensure your safety as we want to see you again.
Musicians and venues rely on you to make their living. Having events cancelled means a loss of income. And of course, many artists do not have health care insurance in the event that they do get sick. So, it's a double-bladed sword for many of us to decide. But it is a choice to make on your own if you venture out or not for the time being.
Do not forget if you're interested in participating in this year's Journey to Memphis competition for a chance to travel to Memphis to be included in the International Blues Challenge, you must have your packages delivered to us by April 7. I have had a handful of acts state that they're planning on joining in, but I am still waiting to see their applications show up. It always places me in a panic mode when so few show up before the deadline; but I also always see a deluge of packets show up at the last minute. Don't miss out, you too can possibly be the next Johnny Wheels & The Swamp Donkeys or Ben Rice or Rae Gordon (just three of our acts from recent years to reach the IBC finals).
The Journey to Memphis is also a terrific way to be introduced to newer acts within our region with which you may not be familiar. There are many bands and solo artists to be discovered. We all have our favorites; that is something noted each year with the Muddy Awards. So many nominations received for the same acts over and over again, year after year. There is nothing wrong with that, as they've earned their spot for your attention. But take a chance. Go to a venue you may not know too well. Check out an act you don't know. You just might discover somebody new that'll earn that same recognition from you and you can help spread the word about someone everybody else should know about, too.
And if you're planning on staying home during the current virus situation, here's a thought. Go to a website like ReverbNation and fill in the search for artists, local, Portland,OR and blues. This will populate a listing of artists within our region and will give song samples and tour dates. Lots of new artists will be found. Though much of this site may be outdated, it still includes a good number of local artists to explore. Take the time to give them a listen. It's just another avenue for exploring and discovering acts that just might draw your interest into finding more about them and to perhaps head out to their gigs when you're ready.
Or just use one of your regular media outlets to listen to your favorites while you are social distancing yourself. Listen to the CDs you own from them, and if you don't own it already, go to their websites and purchase it directly from them. That is certainly the option you should use first to ensure that a little bit of income is headed their way while gigs are being cancelled.
So many acts, so little time it seems. But remember to visit these venues, check out the acts, buy their music. As long as we continue doing this there will never be a shortage of talent for us to enjoy.
So many acts, so little time it seems. But remember to visit these venues, check out the acts, buy their music. As long as we continue doing this there will never be a shortage of talent for us to enjoy.
https://cascadebluesassociation.org/wp-content/uploads/2017/05/Ramblings_2017.png
453
805
Greg Johnson
https://cascadebluesassociation.org/wp-content/uploads/2020/10/CBA_Logo_top_main.png
Greg Johnson
2020-03-28 13:20:57
2020-06-27 15:15:59
Ramblings on My Mind – April 2020