Three Pints Of Gin
Blue Beet Records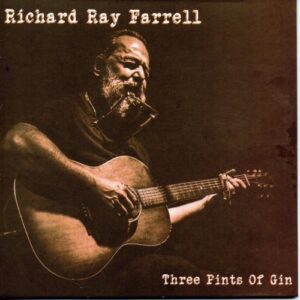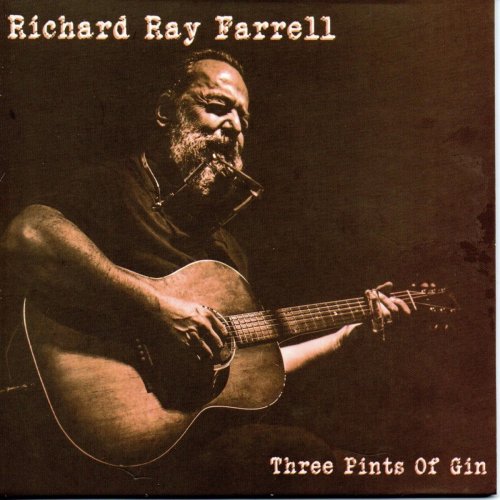 Review by Greg Johnson
There are those artists that, when you hear they have a new recording, you just can't wait to get your hands on it and give it a spin. Richard Ray Farrell is exactly that type of musician to me. Whatever he seems to put together is always beyond expectations, whether performing with other artists in a duet (as he has done with harp masters Steve Guyger and Marco Pandolfi), with a full band, or simply on his own. For his latest disc, Three Pints Of Gin, it is in the mode of the latter, and with startling results.
An exceptional guitarist and songwriter; qualities that have always worked to his advantage, Three Pints Of Gin raises the bar as he straps a harmonica into a rack alongside that trusty acoustic guitar of his. All the tracks presented here were laid down live in the studio with no overdubs whatsoever. It is a masterful display of traditional blues.
All but three of the selections are Farrell originals. Those three being Lonnie Johnson's "Lazy Woman Blues," Fulton Allen's "Funny Feeling Blues," and the traditional "He's In The Jailhouse Now" (most recognized by the early versions from Blind Blake and Jimmie Rodgers).
But if there is any question on the skills of Richard Ray Farrell's own ability of writing original music, you're going to become a true believer as you take your first listen to this amazing recording. It takes quite an adept musician to perform on both guitar and racked harmonica to make things flow smoothly and flawlessly. Farrell does just that as demonstrated right out of the gate with "Juke Joint Swing." That's followed up with some great popping guitar on "Everything's Right." You're definitely going to enjoy the lyrics as well as the instrumentation. They'll make you smile and think.  I cannot point to one song over another, they're all a ton of fun, be it "Triflin' Preacher Blues," "Buttercup," the gorgeous "Listen To The Falling Rain" or the closing gospel-like "I'll Be Comin' Home."
After you've listened to Three Pints Of Gin and fallen in love with Farrell's creativity, do yourself a favor and go back and pick up his entire catalog. This is an artist who truly deserves to be heard time and again.
Total Time: 55:20
Juke Joint Swing / Everything's Right / Oh Begonia / Triflin' Preacher Blues / Three Pints of Gin / Lazy Woman Blues / Buttercup / Gotta Have Love / Ice Man / Funny Feeling Blues / Bohemian Life / He's in the Jailhouse Now / Listenin' to the Fallin' Rain / Dope Shootin' Woman / Evenin' / I'll Be Comin' Home
https://cascadebluesassociation.org/wp-content/uploads/2020/03/Richard-Ray-Farrell-CD-cover.jpg
500
500
Greg Johnson
https://cascadebluesassociation.org/wp-content/uploads/2020/10/CBA_Logo_top_main.png
Greg Johnson
2020-03-28 13:28:01
2020-04-30 13:26:02
Richard Ray Farrell