Ramblings On My Mind ~ Greg Johnson, CBA President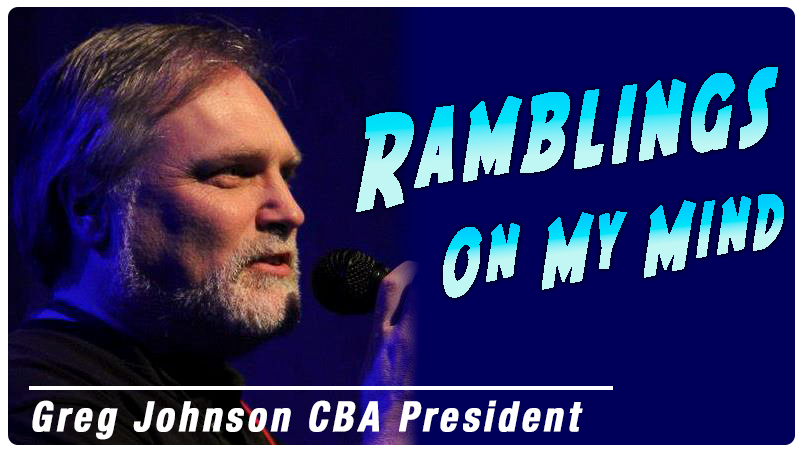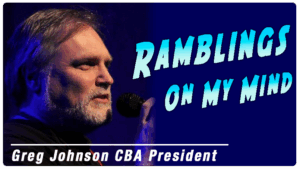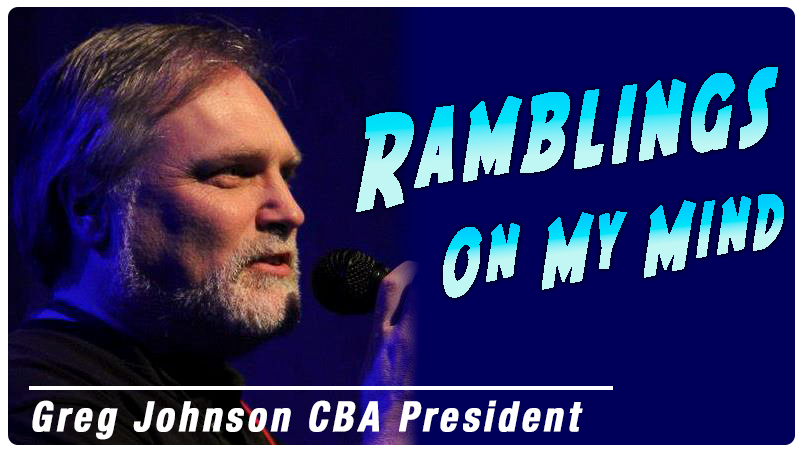 by Greg Johnson, CBA President
Usually I run this column in December, but following the passing of Steve Pringle I decided to wait for this month to list my choices for favorite albums of the year. This is by no means the say all end all listing of what others may deem the best recordings of the year. But they're all good and worth the time to check out. I know they each found significant play time for me. They are also in no specific order, as what may be my top choice today may find one of the others surpass it the next. Just all depends on my mood of the day. But it should not be any surprise either that half of the choices are all local musicians. It was just that type of year.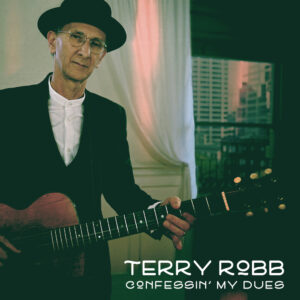 Terry Robb – Confessin' My Dues: This album finds Terry once again at the top of his game, delivering stunning and concise guitar work. That alone is reason to include the disc, but throw in the rhythm section of Dave Captein and Gary Hobbs, with second guitar from Adam Scramstad, and you have a combo that rivals the very best found anywhere. I have always felt that if they toured as a group, they'd be in high demand everywhere. And the songs from the album are pure magical, too.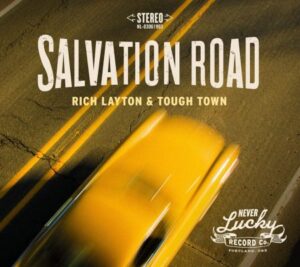 Rich Layton & Tough Town – Salvation Road: The musical hiatus taken by Rich Layton for medical reasons only justified the quality of songwriting he was able to compile during that time. The band took those songs laying to disc this amazing recording that hits its mark on every single track. Memorable tales all, some autobiographical, but all downright fun that brings their Gulf Coast sound out at its fullest power.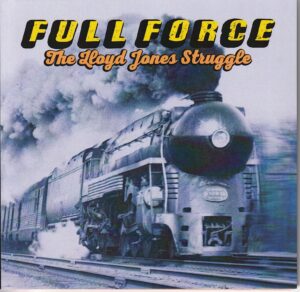 Lloyd Jones Struggle – Full Force: This album may have only been released locally, and was recorded nearly twenty-five years ago, but it is a time capsule of the band in one of its finest incarnations. The inclusion of Bob "Housewine" Rodin and Glenn Holstrom, who have both since passed on, along with Rudy Draco, Reinhardt Melz, Victor Little and Bobby Torres found them tearing up the venue in the hottest of performances. Throw in their head man Lloyd Jones on guitar, vocals and insanely great songwriting and this is one not to miss. Should've been released nationwide to share with everybody!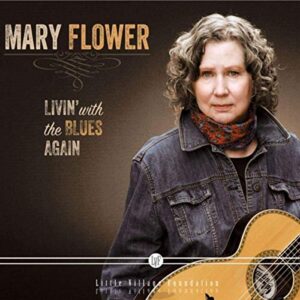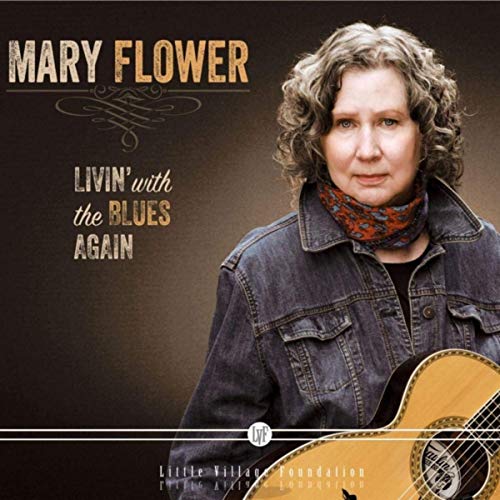 Mary Flower – Living With The Blues Again: Mary always brings out the very best in acoustic guitar, whether fingerpicking or slide, no matter what genre she approaches be it blues, ragtime, Americana or whatever else she pursues. One of the absolute best acoustic musicians world-wide, her recordings have always stood out. But throw her in the mix with the Little Village Foundation stable of artists and she shines brightly while backed by the likes of Kid Andersen, Jim Pugh, Aki Kumar, Suzy Thompson and The Sons of the Soul Revivers. It doesn't get much better than that.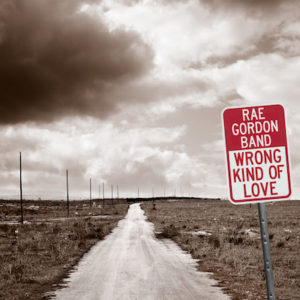 Rae Gordon Band – Wrong Kind Of Love: This may be the most recent release on this list, but it belongs right amongst the best of the year. Rae has never sounded better or more sure of herself. That's saying a lot because I never felt that she would surpass the excellence of her previous album, Better Than I Was. But she has, and every one of the people in the band is mixed so well that their individual sounds make this album one not to be missed. Outstanding playing by all, with tremendous songwriting and production.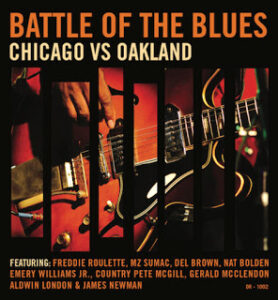 Various Artists – Battle Of The Bands, Chicago Vs Oakland: You're not going to find me selecting an album by various artists too often, but this compilation put together by Twist Turner has captured the very essence of soulful blues and guitar work, featuring overlooked artists from two of the epicenters of the blues. This is one that demands to be played repeatedly, and with me it has been, very rarely straying from my listening pleasure since it was released.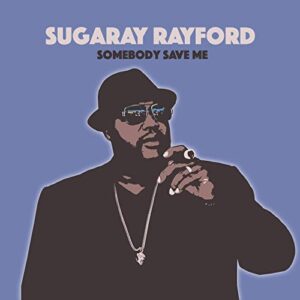 Sugaray Rayford – Somebody Save Me: Sugaray has a personality that's bigger than life itself; and a voice to match. With this recording he has taken ten original numbers and thrown all of that personality and energy fully into a soulful delivery that is both intense and captivating. All that animation you see from him on stage comes across here on every number. The best he's done yet, and I don't expect him to slow down anytime soon.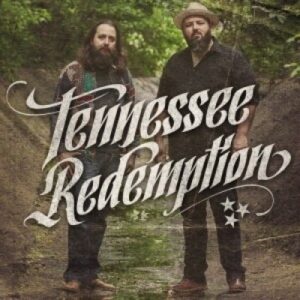 Tennesse Redemption (self titled): From the time that Jeff Jensen moved to Memphis and met up with Brandon Santini, you just knew that these two were destined to work together. They have fed off one another for years, so it was only fitting that they put out an album where they co-share the spotlight. Their music feeds off from one another taking it on a ride we all want to share. Sizzling guitar and blazing harmonica; they're simply on fire!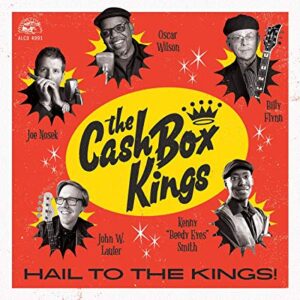 Cash Box Kings – Hail To The Kings!: This is a band that has proven itself as one of the exemplary blues acts working in Chicago for decades. Their music is always first class, but this album paying tribute to the great blues musicians of the city's past leads the charge to prove that Chicago is still the true home of the blues. Vocalist Oscar Wilson, harp player Joe Nosek, guitarist Billy Flynn, Kenny "Beedy Eyes" Smith on drums and everyone else involved make this indispensable and a must own for any lover of traditional blues.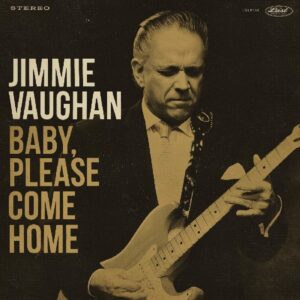 Jimmie Vaughan – Baby Please Come Home: The master of old school, non-flash guitar playing offers some of the most tasteful versions of his favorite songs from favorite artists of the past. Vaughan brings nice renditions from greats like Gatemouth Brown, T-Bone Walker, Jimmy Reed, Etta James and more. It proves that some of the best comes from the past, and it's all handled in the purest of fashion here.
Of course when putting together such a list, there's always going to be some that you wish had been included. As I said, they can change day by day at the simplest whim of the time. Therefore check out people like Southern Avenue, Rosie Flores, Brandon Santini, Johnny Rawls, Mavis Staples, Rory Gallagher and others that found my time absorbing their latest discs of this past year. They're all worth exploring.
https://cascadebluesassociation.org/wp-content/uploads/2017/05/Ramblings_2017.png
453
805
Greg Johnson
https://cascadebluesassociation.org/wp-content/uploads/2020/10/CBA_Logo_top_main.png
Greg Johnson
2019-12-26 10:31:13
2020-01-04 12:12:19
Ramblings On My Mind ~ Greg Johnson, CBA President