Ramblings on My Mind -June 2020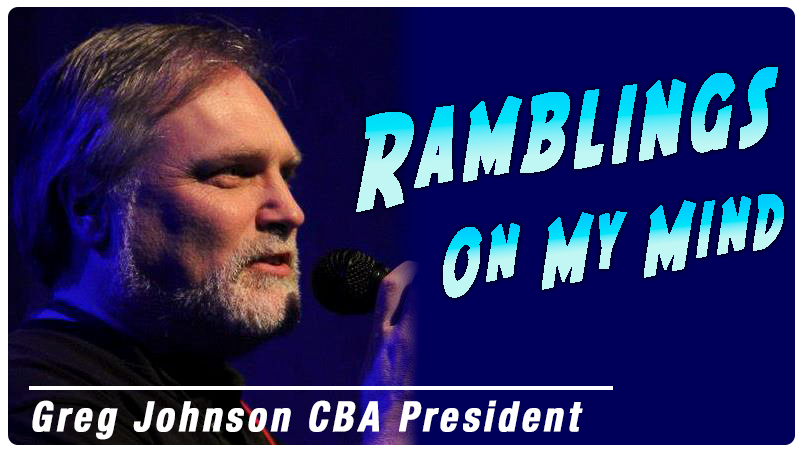 Ramblings On My Mind 
Greg Johnson, Cascade Blues Association President 
As our world continues to be on hold due to the pandemic, we watch over and over again as our dreams of nice summer weather with gatherings to enjoy music and friends disappear before our eyes. Here in Portland and throughout our region, summers are usually one long weekend after another with multiple choices to experience the music we love. Northwest festivals such as the Gorge Blues & Brews, Waterfront, Cathedral Park, Winthrop, Mount Baker, Sisters and others are all highly anticipated and prepared for months in advance. Street fairs, markets and house parties are usually in abundance. But one by one we watch as the cancellations are announced and accumulate. It's hard. But the possibility of losing friends and musicians because of the contagious nature of this virus would be so much more so.  
We may end up losing some of the businesses we cherish. Without means to support themselves with income from their product, such as performances and food sales, and landlords who need their rent payments to make ends meet on their end as well, we will sadly see some gone forever. It hurts us all. 
The Cascade Blues Association sees most of our membership renewals during the summer months, most notably at festivals. That is also when we do most of our merchandise sales. And we normally have a number of advertisers come through to promote their events. The loss of income takes its toll, and we have already had to suspend printing the Blues Notes during this period due to expenses. We still have our monthly obligations to meet with bills, and the Board of Directors have not even been able to meet in person due to the stay-at-home orders and the limitations expected for social distancing. Our communications have been strictly by email and social media for the most part. The business end of the Cascade Blues Association has to continue even while things are shut down. It does make things tough, so hopefully the world will turn itself right side up again so everything can be addressed and we can return to promoting the music we all love and care deeply about.  
This time shall pass. It has to. This lost summer will eventually be a memory. But it will also make us hold the things that we may take for granted a little more closely. Music brought us all together and hopefully it will help us get through this hard period, too. 
https://cascadebluesassociation.org/wp-content/uploads/2017/05/Ramblings_2017.png
453
805
Greg Johnson
https://cascadebluesassociation.org/wp-content/uploads/2020/10/CBA_Logo_top_main.png
Greg Johnson
2020-05-31 17:11:10
2020-06-27 15:11:58
Ramblings on My Mind -June 2020