Ramblings On My Mind – May 2021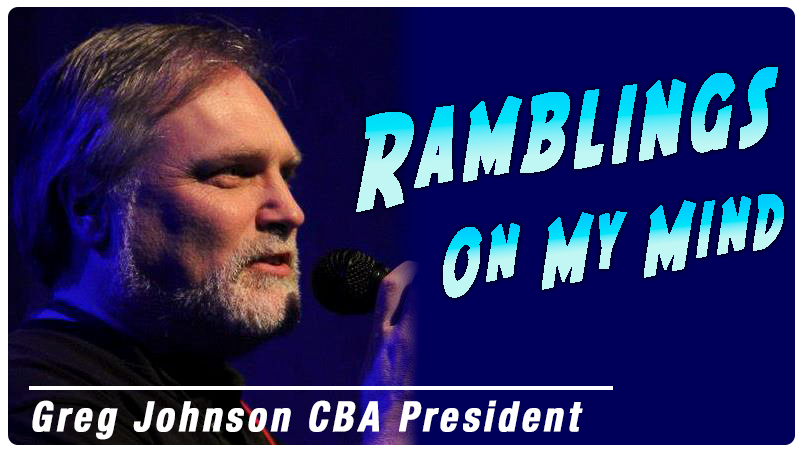 Ramblings On My Mind – May 2021
Greg Johnson, President, Cascade Blues Association
The end of March truly saw a drastic change in my life. Going into Urgent Care due to a blockage in my bowels, it was discovered that I have cancer.
The next few days and weeks were fast-paced with surgery, a hospital stay and multiple appointments and scans that have left me quite exhausted. It hasn't left me much energy that I normally have to follow up with what is happening in our music community or to even check up on social media. And if it weren't for my loving wife Cherie, I would be completely lost. It hasn't been easy for her as I am on a medical leave of absence and with her needing to be my full-time caretaker, she has had to drop down to part time work. There is still a long path ahead before we reach the end of this, but we will get back to our normal routines eventually. I do have faith in that.
Family and friends have been quite supportive. Especially those in our immediate music community. A huge thanks to Tracy Turner-Pain for working with Cherie to set up the GoFundMe page that has seen an overwhelming amount of generous donations to help us make ends meet during this time of medical expenses. When I consider that everybody has been in a pandemic for more than a year and many of you making these donations have not seen a lot of income yourselves due to lack of work, it does more than just warm my heart, it leaves me speechless and all that Cherie and myself can say is THANK YOU, THANK YOU, THANK YOU!!
It hasn't just been through GoFundMe, as a lot of support has come in many forms. Michael & Laura Osborn watched over our dog while I was hospitalized with Cherie staying by my side the entire time. Roger & Debby Espinor and Ken & Angie DeRouchie instigated a meal train that ended up being gift cards for grocery stores and food delivery services, with the exception of a couple delicious homemade dinners dropped off by Tie-Dye Terry. A grant from MUSICARES that'll help us with our rent for a few months. A driveway concert was held at the home of Louis and Tracy Turner-Pain featuring Michael Osborn & Friends (Louis Pain, John Moore, AC Porter with special drop-in guest Lloyd Jones), and several musicians have taken their online streamed shows to help push our cause and posting our GoFundMe information (Lisa Mann, Steve Kerin, Lloyd Jones and Duffy Bishop to name only a handful).
Music from Terry Currier and a book from Mark Shark have helped pass the time. Multiple offers to help out if we need anything have been greatly appreciated, as have friends Catherine Jolley, Debra Penk, Laura Osborn and Angie DeRouchie, who have helped Cherie escape for personal outings to keep her from going stir crazy while caring for me daily. All of this means so much and we love all of you for it.
Thank you to the support of the Cascade Blues Association Board of Directors for allowing me to slowly work my way back. I am trying to do a little more every day. A huge thanks to Shelley Garrett, who not only has been taking on her role as vice president and filling in the vacant spot of treasurer, but has been handling my responsibilities, too.
On a much more positive note, live music is heading back. The Waterfront will return this July, though with a much more COVID-aware process. Cherie and myself may not be able to attend too much this summer, as much as we would like, since treatments will be continuing. We hope everybody gets out and enjoys live music as much as you can, but please remember the hardships the musicians and venues have gone through this past year. Pay the covers, tip the bands, buy food and beverages from the venues. It'll help the recovery so much more. And wear your masks; it'll help bring the end of this event quicker and open the doors to more than limited numbers.
This truly is a "rambling" this month. But I wanted to keep everyone up to speed on my condition. I cannot stress enough just how much of a difference each and every one of you have impacted our lives and again to say THANK YOU and we LOVE YOU. Hopefully we will see one another soon.
https://cascadebluesassociation.org/wp-content/uploads/2017/05/Ramblings_2017.png
453
805
Shelley Garrett
https://cascadebluesassociation.org/wp-content/uploads/2020/10/CBA_Logo_top_main.png
Shelley Garrett
2021-05-01 09:09:25
2021-05-01 09:09:25
Ramblings On My Mind – May 2021