Ramblings On My Mind – November 2020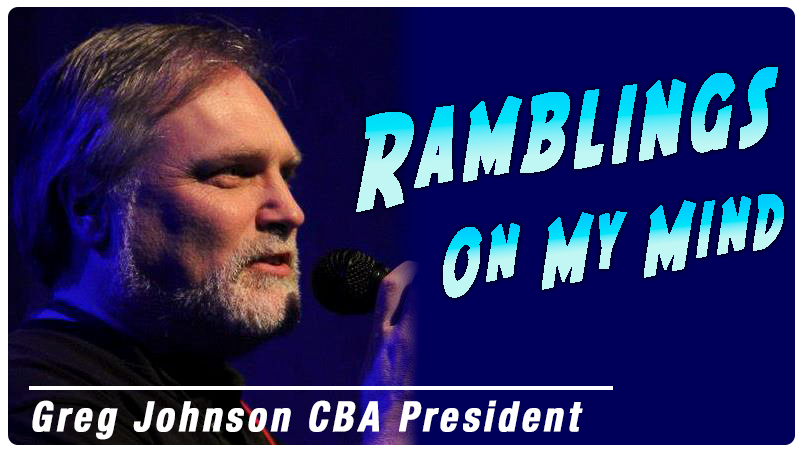 Ramblings On My Mind
by Greg Johnson, Cascade Blues Association President 
It seems that this full year has been reminiscing about how much work it would normally take to keep up each month with Cascade Blues Association activities and meetings. For instance, it is now November and the Muddy Awards should've consumed a great deal of time starting in August in preparing for and doing actual nominations and balloting for the various award categories. But like so many events in our current world, it too had to be canceled to avoid a gathering of a large crowd. So here we are, no asking for musicians to perform at the ceremonies, no creation of the presentation slide show, no counting of ballots, no having awards made up, no reservation of a venue. It is a lot of work, but still it's a huge disappointment, because we do look forward to holding one of the year's most anticipated events within our blues community. We know that this pandemic should be temporary and we will look forward to having this and so many more events take place again eventually. 
We are happy to start up a relationship with Artichoke Music to be able to present a monthly performance from a local act streamed online. It may not be the same as our usual monthly meetings where we could all get together with friends and enjoy the music in person. But we will be able to bring live music with our two nonprofit organizations working together. A full hour each month on the first Wednesday at our normal time. With the limited space in their performance room, we cannot open to the public as they're limited to only 14 people who can be in attendance. This means that we will give this space to the performers' family members first. But this will not go on forever and once restrictions allow, we will hold meetings where we can bring back everyone again. Have faith, it'll happen. 
We have been able to enjoy live performances in a handful of locations, mostly held outdoors. The weather is about to change with the colder months ahead and some have taken precautions to be able to continue, so we need to support those who're trying to keep the music scene. If you're comfortable with indoor settings — and many are doing so with reduced capacity allowances and distancing set-ups — please make note to abide by the venue's guidelines and continue to purchase food and drinks and tip the bands. It is their lifeline of survival. If you're not willing to go out, continue tuning into the online live broadcasts from the many musicians out there. And again, tip those you tune into as without being able to come to you in person, this may be the only income they have. 
The Cascade Blues Association will be there when everything comes back, but we are also looking to a new year. And that means we need to assure that we have a board in place to keep our future activities moving forward. All of our officer positions are up to be voted on and they're necessary to be fully filled so the others are not overwhelmed by having to do more than what is already on their plates. We have several people who plan on re-running, but that should not prevent others from putting their names onto the ballot. The most important role that we know needs filling is the treasurer. Obviously we need a person who can keep up with our finances and bills, and somebody who is proficient in accounting and filling out taxes. When everything is open, it is difficult to keep up, so please consider helping out. If not as an officer, at-large members are a godsend, too. So much work to do, everybody is important. 
2020 has been an extremely hard year for everybody. The future has got to be better. The blues are not going anywhere. In fact, the difficulties and hardships should make for great theme fodder for new music. We will all celebrate when the world opens to everybody with no restrictions and the music will be there to keep us all company again in person. Do what we can to support those in the music industry today and help ensure that it rises again when it can. Stay safe, everybody. 
https://cascadebluesassociation.org/wp-content/uploads/2017/05/Ramblings_2017.png
453
805
Shelley Garrett
https://cascadebluesassociation.org/wp-content/uploads/2020/10/CBA_Logo_top_main.png
Shelley Garrett
2020-11-05 10:57:24
2020-11-05 10:59:23
Ramblings On My Mind – November 2020