Ramblings On My Mind – September 2020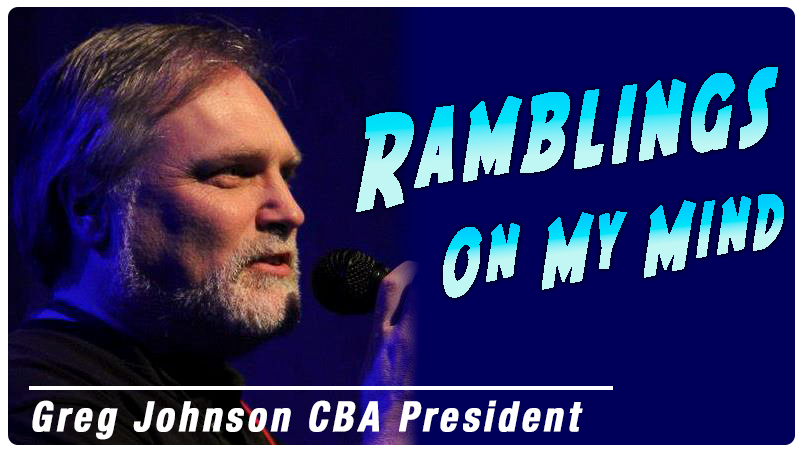 Ramblings On My Mind – September 2020
Greg Johnson, Cascade Blues Association President 
As we continue to push our way through these times of pandemic, some things seem so far away in the past or further into the future. Such is the feeling I have regarding the status of live music. Every one of us wants Covid to just go away as soon as possible; but facts are that it will probably be around longer than we wish. There are some forms of live music that are taking place. It is your decision whether you want to possibly be exposed to somebody carrying the virus. 
I have made it to a few live happenings. It is just second nature for some of us to yearn for that gladness inside of ourselves to see and listen to our friends perform. But I have limited myself. I do not attend anything in indoor venues, let alone eat in most restaurants that do not have outdoor, separated seating. For the most part, I have limited these to very few outings, and three have been to watch from somewhere such as a friend's driveway while doing live simulcast over the internet. The attendance at such may have been ten people at the most in any situation. I have ventured to Kathken Vineyards a couple times. They have been quite careful, setting up their picnic tables with great distances between, while having you fill out tracing papers in the event anybody reports contracting the symptoms of the virus. The stage is elevated away from the audience, as are some of the other venues offering live music (Tavern on Kruse also has such a set-up for the band). 
Regardless, it is up to each and every one of you to decide if you will go to see live performances. Nobody will judge you if you decide to stay at home. There are plenty of live feeds happening daily and you can always help out by throwing a little monetary sum to the artists' paypal, venmo or other accounts. 
I repeat myself from last month as well, when it comes to expressing appreciation for all of the musicians, limited volunteers and our board committee staff who have been holding the shows for the kids lunches with Portland Parks & Recreation. Though we cannot let people know where they've been taking place to avoid crowd sizes that would bring the event at the time to be closed, we are quite pleased with the response we've had from our members and friends to help foot the cost. At this time we've had sets from people like John Bunzow & Denny Bixby, Ken Brewer, Lauren Sheehan, Mojo Holler, Julie Amici & Dean Mueller, Alan Hager, Mary Flower, JME Jazz Trio, LaRhonda Steele, Sonny Hess, Joanne Broh, Kathryn Grimm, and Robbie Laws. Ten events in all for Phase One of the regulations that we must abide by for the pandemic; we're hoping that Phase Two will allow us to do more in the near future. Huge thanks to Marie Walters, Brad Bleidt and Shelley Garrett  for their hard work at making these take place. 
The other project that the CBA involved themselves with this month was the Walk A Mile In Our Shoes, with views, stories and music celebrating the music from our Black community in Portland. We were proud to help sponsor this event and to be able to create an ad under the creation of Marie Walters and myself. 
We do not know what is ahead for us. We don't know if there will be any membership meetings in the near future or if we'll be able to hold the Muddy Awards. We are at the beck and call of the pandemic. I do wish to thank those who have offered locations or ideas. The main focus is we want a convenient space that is centralized for everybody and in a space that is safe. 
Hang tight everybody. This too shall pass sometime in the future and the CBA will return to our regular routine that you all expect. In the meantime, please be safe and support our musicians, venues and sponsors any way that you can. 
https://cascadebluesassociation.org/wp-content/uploads/2017/05/Ramblings_2017.png
453
805
Shelley Garrett
https://cascadebluesassociation.org/wp-content/uploads/2020/10/CBA_Logo_top_main.png
Shelley Garrett
2020-09-04 05:41:35
2020-09-04 05:41:35
Ramblings On My Mind – September 2020