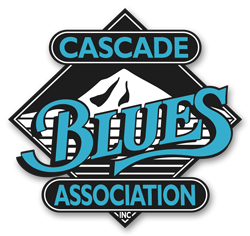 The following is a list, though not limited to assignments for individuals, that your board of directors and several volunteers are currently working on. As you can see, there is a lot more to being behind the scenes with the Cascade Blues Association to keep it running on a daily basis.
Elected Officers
Greg Johnson, President – Membership Meeting scheduling, BluesNotes content, proofing & final authorization for print, Website updating, Journey to Memphis lead, Muddy Awards Ceremony co-lead, Best Self-Produced CD lead, Blues Foundation and other society liaison
Shelley Garrett, Vice-President – Calendar Production, Email Blast, Website and Survey Monkey Voting liaison, BluesNotes Delivery, Merchandising, Waterfront Blues Festival Booth lead, Volunteer Committee liaison
Merry Larsen, Treasurer  (and currentlyActing Secretary) – Finances reporting & documenting, Mail pickup, Waterfront Blues Festival Stage volunteers, Christopher Mesi Scholarship board lead
Shelley Garrett, Interum Membership Secretary – Maintaining Membershipship records and renewals, Muddy Awards Ceremony co-lead, PayPal technologist
At Large Members
Randy Murphy – BluesNotes content & proofing, Non-Profit of Oregon liaison, Various Festival liaison
Kim Allmaras – Treasurer support
Brad Bleidt –  MBA Non-Profit Management Consultant, Bylaws, Ethics
Jamey Winchester – BluesNotes advertising & liaison with Cedar House Media, East Eagles Lodge liaison, Community Outreach, Hawthorne Business Association liaison, Travel Portland liaison, Portland Trailblazers/ Portland Timbers Sponsorship liaison, Holiday Party lead
Committees
Volunteers – Richard LaChapelle – lead, Belinda Clark, Jeanette Aglipay
OPEN: seeking outside volunteers to help with board for the following committees:
Christopher Mesi Scholarship – Merry Larsen, board lead
Blues in the Schools
Musicians Relief Fund
Please Note: our by-laws do not allow for officers to hold more than one position. Our Secretary position is still vacant. If interested in fulfilling this role, please submit your interest in writing and give to any board member. Since this is an officer position, it must be approved by the membership and would be filled through an online process to all. We can also have up to 15 members on the board meaning we have 6 open At Large positions available at this time. Please let us know if you may be interested, or attend a monthly board meeting to see how things are run.
https://cascadebluesassociation.org/wp-content/uploads/2017/05/CBA_Logo2.png
236
250
Greg Johnson
https://cascadebluesassociation.org/wp-content/uploads/2020/06/CBA_Logo-header2-300x66.png
Greg Johnson
2019-04-25 08:08:23
2019-04-29 11:33:10
Responsibilites of Board and other working with the Cascade Blues Association