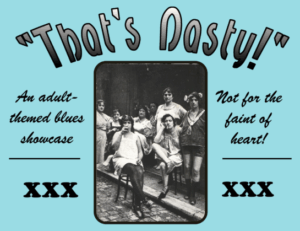 Throughout the history of the blues the music has always been filled with themes not intended for younger and non-mature audiences. Adult themes of sexual innuendo, some disguised with hidden double entendre and some pretty much blatant with their approach and meaning. The Blue Diamond will be showcasing a night of these songs with an all-star cast of performers on Saturday, October 6 in what they're billing as "That's Nasty!, A Show Not for the Feint of Heart."
Artists scheduled to appear in the show include Lisa Mann, Sonny Hess, Lady True Blue, Myrtle Brown, and Jason "JT" Thomas among others.
Tickets for this early show, starting at 6:00 pm, are available at the venue's website Bluediamondpdx.net for $12.00. The Blue Diamond is located at 2016 NE Sandy Boulevard. Adults only, of course.