Book Review by Greg Johnson: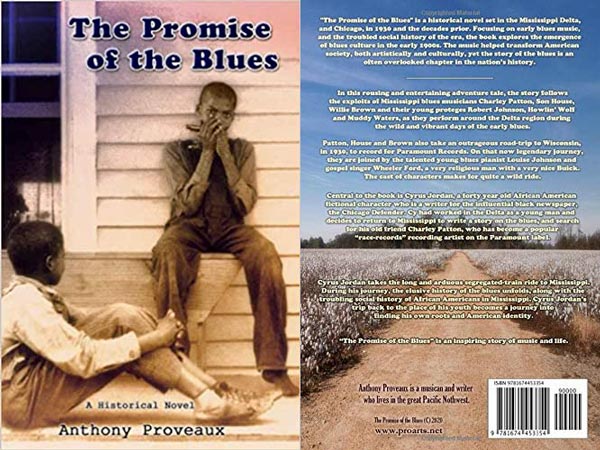 The Promise of the Blues
Anthony Proveaux
Pro-Arts Production 2020.
181 pages
"The Promise of the Blues" is a work of historical fiction that offers more than you'd expect from such a genre of writing. It does revolve around the central character of Cyris Jordan, a writer for the Chicago Defender, but aside from his encounters with famed musicians and music industry personnel of the early twentieth century, it can also be read as a work of historical document. The research that author Anthony Proveaux, himself a professional musician from the Eugene, Oregon area, is astounding, with great detail going into the landscape of the Delta, racial attitudes, and the music that shaped it all.
The story bounces on occasion, between Cyrus' earliest time spent in the Delta and the encounters he has of hearing the sound of call & response field hollers to the sounds of musicians on train platforms playing the new sounds of the blues, to his return in 1930 and the changes that the Delta has gone through, while also giving accounts to the famous trip made to Grafton, Wisconsin by Charley Patton, Son House, Willie Brown and Louise Johnson to create some of the most recognized music of the time.
Cyrus makes friends with Charley Patton and Willie Brown early on, and is reunited with them during his return. He also comes into contact with Son House, Robert Johnson and Muddy Waters, as well as a friendship made with famed record producer/talent scout J. Mayo Williams. Working for the renowned newspaper The Chicago Defender, the first paper aimed at an African-American readership, also plays a role in his story. His life is greatly influenced by the blues and it is a life-long goal to document what it has meant to him.
The Promise of the Blues is a nice journey into the blues in its earliest years and offers quite a bit of historical fact intermingled with the fictional accounts between the main character and those he meets. Well considered in its presentation and easy to read without losing attention to the detail behind the story. You get to know the man behind Cyris Jordan and experience the personalities (whether factual or fictional) of Charley Patton, Son House and Willie Brown.
https://cascadebluesassociation.org/wp-content/uploads/2020/04/promise_of_the_blues.jpg
450
600
Shelley Garrett
https://cascadebluesassociation.org/wp-content/uploads/2020/10/CBA_Logo_top_main.png
Shelley Garrett
2020-04-30 18:07:36
2020-05-03 08:19:53
The Promise of the Blues – Anthony Proveaux