Andy T Band
Double Strike
American Showplace Music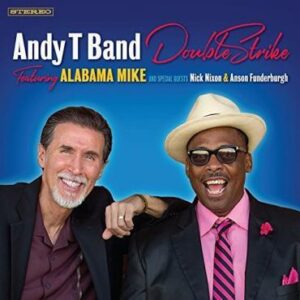 Double Strike is a fantastic new recording from the Andy T Band, but sadly it is also the swan song for his partner and band vocalist Nick Nixon, with whom it released three sensational albums over the past six years. Forced into retirement due to health issues, Nixon appears on half a dozen tracks on the new album. They serve as a nice legacy alongside his previous recordings, showcasing his ever smooth voice that has graced many R&B and blues recordings since the 1960s.
To fill the void created by Nixon's departure, Andy T recruited Alabama Mike Benjamin, a spectacular vocalist who has been bathed in the gospel tradition and made his reputation known around the Bay Area working with the likes of Anthony Paule in the trio The Hound Kings and by releasing three solo albums under his own name. He fits the mold of the Andy T Band perfectly. Alabama Mike also takes the lead voice on six of the thirteen songs on Double Strike, with the instrumental "Mudslide" being the one number left.
Though the Andy T Band is based out of Nashville, there is a strong Texas presence on the recording, including guitar ace Anson Funderburgh (who also co-produced the disc), The Texas Horns and Greg Izor applying harmonica to the song "Deep Inside." The band is completed by Larry Van Loon on keys, Jim Klingler on drums and Johnny Bradley on bass, with Mike Flanigin contributing on Hammond for "Sad Times." The album was recorded in Austin and later mixed in Nashville.
When you have the double strength of guitarists like Andy Talamantez (who worked in bands led by Smokey Wilson and Guitar Shorty before starting his own) and Texas guitar legend Anson Funderburgh, you know that the offerings are going to sizzle. It truly comes across throughout and shines brightly on numbers like "Doin' Hard Time" and "I Was Gonna Leave You."
The songs on Double Strike are mostly originals written by Talamantez and two by Nixon (one of which is sung by Alabama Mike, "Sad Times"), with collaborators in the band Van Loon, "Somebody Like You," and horn player Kaz Kazanoff, "Where Did Our Love Go Wrong." Another, "I Want You Bad" was written by Tom Hambridge. There are three covers on the album, all sung by Nixon, Goree Cater's "Drunk Or Sober" and back-to-back Chuck Willis tunes, "I Feel So Bad" and "Juanita."
Double Strike is both a bittersweet and a wonderful album. It is a sad day realizing that these are more than likely a final testimony of new recordings from the voice of Nick Nixon to be heard. But it is also a brand new opening of hope for new brightness to come from the band behind Alabama Mike's vocals. Two vocalists, one sensational band. It is a double shot of bluesy goodness.
Total Time: 49:56
I Want You Bad / Somebody Like You / Deep Inside / Sweet Thing / I Feel So Bad / Juanita / Mudslide / Sad Times / Doin' Hard Time / Drunk Or Sober / I Was Gonna Leave You / Dream About You / Where Did Our Love Go Wrong