Beth Hart
Fire on the Floor
Provogue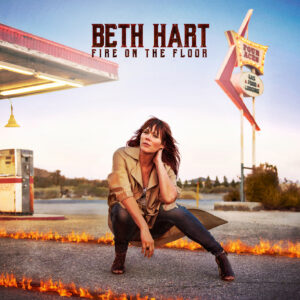 Beth Hart has the goods to mix genres with relative ease and does so superbly. Her latest recording Fire on the Floor does just this as she can flow from the jazzy approach of the opening number "Jazz Man" to  the soulful "Let's Get Together" to funky "Baby Shot Me Down" to downright bluesy with "Fat Man" or the slow bonus track "Tell Her You Belong To Me" (featuring guest Jeff Beck on guitar). Her words are packed full of emotion. There is no mistaking the mood in her lyrics when she is feeling angry, joyful, or hurt. And with Fire on the Floor there is a lot of hurt going on. From being in love with somebody who loves someone else ("Woman You've Been Dreaming Of") to the despair of being alone ("Good Day To Cry" or "No Place Like Home"). She bares it all, and in her vocal range and natural gift for phrasing her words Hart has very few peers.
The album was produced by Oliver Leiber and Hart is joined by an outstanding cast of musicians: guitar masters Waddy Wachtel, Michael Landau, and Dean Parks; Rick Marotta on drums; bassist Brian Allen; and keyboardists Jim Cox and Ivan Neville. It is a sensational follow-up to her previous disc Better Than Home that she stresses taxed her emotionally as the producer of that album Michael Stevens was suffering from terminal cancer during its creation. Seeking recovery from the emotional pain that had taken its toll, she immediately returned to the studio for Fire on the Floor and has again delivered an album of exceptional force.
Fire On The Floor is one of those albums that sounds great from the very beginning. It finds you thinking during every song, well that can't be beat. But then the next one tops that. And the next one sfter that yet again. And again. This is an album filled with memorable moments. Her words are brought to life with the passion she delivers. If you've seen her perform, this is exactly what you'd expect. Animated and honest, Beth Hart is on top of her game once again.
Jazz Man / Love Gangster / Coca Cola / Let's Get Together / Love Is A Lie / Fat Man / Fire On The Floor / Woman You've Been Dreaming Of / Baby Shot Me Down / Good Day To Cry / Picture In A Frame / No Place Like Home / Tell Her You Belong To Me