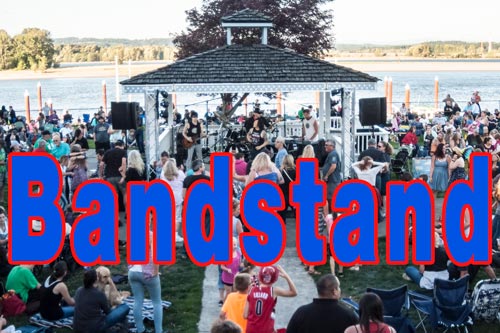 Lloyd Jones
Yes, it's holiday season and I'm delighted to spend it with special friends (like you) at Jimmy Mak's  Saturday, December, 17. Santa may drop in for a minute to sing with his sweet angels: Teresa James, LaRhonda Steele, and Lisa Mann. Don't miss this one!
After the New Year Teresa and I will head south to Join Delbert McClinton's "Sandy Beaches" cruise January 5-13. Then up to Canada in February. Yippes, it's gonna be a crazy year already!!
 Lloyd Jones
"Groove Merchant"
 —————————————————————————-
The Thunder Brothers
Hey Thunderheads,
We would like to thank the Cascade Blues Association for awarding the Muddy Waters Award for "Best New Act" to The Thunder Brothers this year. The CBA provides a central hub for this amazing music community that we have here in Portland. Thank you CBA board and members for all that you do to keep this music that we all love thriving. It takes a village to raise an idiot, or something like that, and we, The Thunder Brothers, have our own amazing village. Thank you Thunderheads for your endless and enthusiastic support, and thank you Andree and Walt for all that you do to keep this storm raging. Congratulations to our fellow nominees and all of the Muddy Award winners this year.
We want to send a big Thunderthanks out to Dr Jane Manning KBOO (Portland OR), Squrl Music KMSW (Hood River and The Dalles OR), and The Mighty Mouth Blues show NWCZ (Tacoma WA) for spinning The Thunder Brothers EP. Send us an email or facebook message if you hear us playing on another station.
Greg Johnson has written a deluge of a review of The Thunder Brothers EP that was published in the November edition of the BluesNotes. You can read that review here…http://www.thethunderbrothersmusic.com/press2.html. Thank you Greg for your kind words.
There is a winter storm warning for The Trails End Saloon in Oregon City OR on December 9th. The Thunder Brothers will bring on a holiday storm with Jr. Thunder Ben Rice opening the set with his lightning fast acoustic riffs. This is a CBA sponsored event so CBA members will receive a discount at the door. Just present your membership card. Reservations are highly recommended for this event. The show starts at 8:30. The Trails End Saloon, 1320 Main St, Oregon City, (503)656 3031.
As always, you can check for Thunder storms in your area, order Thunderwear, and get the latest storm news on our web site http://thethunderbrothersmusic.com. And if you haven't done it already, drop by The Thunder Brothers facebook page and give us a like. Http://facebook.com/thethunderbrothers.
 —————————————————————————-
Billy D & The Hoodoos
Hello bluz lovers It's finally here, our first CD, Somethin's Wrong, came out almost six years ago and has done very well for us. Our New CD, Overnight Success, will be released on New Year's Eve at The Trails End Saloon in Oregon City and we're thinking it will be every bit as good as its predecessor. An actual old school straight blues song on this one, a handful of bluzrockers, a sweet ballad, and a bunch of slide guitar rave-ups. Music and dancing to commence about 8:30pm. Please c'mon out and dance into 2017 with us and our new CD. We so appreciate all the support over the last few years since we've been in PDX…best damn blues town anywhere!!!
See you soon and keep rockin' my friends!!!
Billy D
 —————————————————————————-
Strange Tones
Season's Greetings Music Lovers!
We're very excited to announce that we're continuing the Crime-A-Billy Christmas tradition this year with two shows, and we'll be featuring a brand new Strange Tones vintage holiday TV special, "A Mysterious Encounter on Crime-A-Billy Mountain". This short film kicks off a festive evening of live music, multimedia entertainment, original video backdrops, and unbridled merriment!
Joining us in the festivities will be our partners, the lovely Volcano Snow Vixens and a large cast of top-notch musicians, along with a variety of Crime-A-Billy Christmas characters. Yes, yes, keep your eyes and ears tuned in for the likes of Fiddlin' Jim Toussaint, Randy Yearout, Tracey Fordice, Jim Wallace, Elvin Alfred Priestly, giant gingerbread men and nutcrackers, a jolly fellow who likes to wear red, and more.
Along with our many guests, this multimedia show is sprinkled with treats and surprises that just might give you a refreshing, warm and fuzzy feeling inside. At least, that's what has been reported to us by previous Crime-A-Billy Christmas show attendees! We especially like this quote that we found on the website Evensi: "Incredible show…song, dance, choreography…should play to 5,000 people at $50/each…it's that good! Reliving it now with Christmas CD."
At any rate, we like playing more intimate venues for this particular event and are happy to have a show at Duff's Garage on Dec. 9 and another show at the Skyway in Zigzag on Dec. 17. The Duff's show will have advance tickets available at ticket tomato.com, and we'd like folks to consider bringing two cans of food for Oregon Food Bank. This is a CBA co-sponsored event, and there will be a $2 discount for card carrying CBA members.
Sending a very Happy Holidays to everyone!
Guitar Julie, Andy Strange, Suburban Slim, & Andy Gauthier
 —————————————————————————- 
David Kahl
I'd like to thank you all for honoring me with Muddy Awards for Bass and Lifetime Achievement. It's been nearly 50 years since I first publicly performed and there are times when I can definitely feel it. I'd like to think that you aren't recognizing what I do, so much as what I've tried to do and why. For this, I thank you, but I'd rather have your help than to have your praise.
During the course of my career, I've seen a lot of changes in both the music business and in society, the vast majority not good. In the face of adversity, the response of this community, musicians and fans, alike, has been affirming. We have pulled together to help others in need; you've even done so for me and my wife, Lynn, but the question remains — what can we do to help others, especially struggling, but talented musicians, even as we help ourselves? How do we relieve their daily burden, allowing them to focus their attention and talents to the gifts that they offer to rest of us? For artists, it's getting tougher to make a living here in Portland, let alone to try and get by. I personally know of too many who have had to rely on not only benefits and crowdfunding, but on social services and second jobs, who have had to drastically change their living situations, verging on homelessness, who are several paychecks away from losing it all, or who have just given up and chucked it all in. Portland now stands the real chance of losing the creative forces, the community that has traditionally defined its character and a key reason for its livability.
It takes more than just wanting things to change for the better. It takes creative thinking, hard work, and, where resources are limited, resourcefulness. Every problem implies a solution. The more complex the problems, the more creative the solution must be. With this in mind, I've put together a plan, the Creative Cooperative Program, which holistically addresses a wide range of issues, from housing, to education, food insecurity, health and wellness, work spaces, business development and operations, and a whole slew of others. Modeled on a variation of food pods, these cultural pods would have high impact in a small footprint, set up on sites in several neighborhoods, plug their educational expertise into local schools, and create after school, weekend, and summer programs for area youth. Musicians and their families may have needs, but they are not needy; they're a resource.
This is what I'm asking of you – help to make this a reality. Then I can feel like I've actually earned my award.
And, while I'm asking, please help support venues and bands. A couple gigs that happen to be pretty important to me are at Blackwell's, on Wednesdays, 8:30-11:30pm, with Soul Cookin' – Lloyd Jones, Brian Foxworth, and special guests – and on Sundays, 5:00-8:00pm,  with the Bayou Boyz – Mark Shark Schatzkamer, Steve Kerin, and Brian Foxworth. Of course, I'm playing bass.
David Kahl
https://cascadebluesassociation.org/wp-content/uploads/2016/08/bandstand.jpg
333
500
Wendy Schumer
https://cascadebluesassociation.org/wp-content/uploads/2020/10/CBA_Logo_top_main.png
Wendy Schumer
2016-11-26 13:58:59
2016-11-29 19:04:10
Bandstand: December 2016