Modern Blues, Americana and Roots Songwriter & Performer
Jody Carroll is a blues & Roots performer and songwriter who effortlessly creates bold interpretations of old Blues and American Folk music, his own songs, stories and improvisational musical journeys. He is a Finger style/slide guitar master and amazingly soulful singer blending flavors of old Blues, Folk, Mountain music, Jazz and Rock all together into a true power packed gumbo.
JC Has toured with or shared the stage with legends such as Buddy Guy, Honey Boy Edwards, Jack Owens, Louisiana Red, R.L Burnside, Johnny Winter, John Mayhall, Roy Rodgers, George Thorogood, Derek Trucks & Susan Tedeschi, Leo Bud Welch, Robert Cray, Roy Rodgers, Eddie Kirkland, Robyn Trower, John McEuen , Ural Thomas, Charlie Musselwhite, Canned Heat, Robert Earl Keen, Sonny Landreth, Shameka Copeland, Paul Geramia, Sonny Landreth, Roy Bookbinder and even members of Metallica once back in 1987 (strange story).
He appeared to great critical response at Merlefest 2018.
From there to here:
Jody Carroll McMurrian was born on April 5 1968 in an area called the San Joaquin Delta of California. It's a vast water filled area where the Antioch River, the Old River, The San Joaquin River and the Sacramento River all meet up to pour into the San Francisco Bay. His family hails from the hills of Buffalo Valley Oklahoma via Arkansas on his father's side and Amarillo Texas on his mother's side.
Jody Carroll grew up hearing whispers of old American music on the radio or from his fathers guitar. His father started him off with a couple Willie Nelson songs and plenty of AM country radio. His grandfather, who also played guitar when he was young, had come from the remote rural Buffalo Valley hills of Oklahoma 20 years earlier with his family in tow. He and his brothers had been running whiskey in those hills one to many times and had been effectively asked to leave the state by the law. JC's grandfather left town and made his way over to California and then up to the bay area for work in the ship yards of Port Chicago. Jody grew up in the 70's and 80's working on the families Northern California farm, building barns, riding horses, drawing, learning music from old blues, folk, Rock and Soul records.
His first guitar was his father's steel guitar that had languished for many years up in the attic until he found it. After secretly playing it for a while, he asked his father to teach him some old folk tunes that he had played in his early years and some lap slide licks. He took to it like a fish devouring all he could learn from the family record collection. After many years of playing in garage rock bands, he happened upon the Harry Smith Anthology of American Folk Music and the recordings of Robert Johnson. That sealed the deal as it where, he took off into the backwoods of old weird America and never looked back.
"A new blues artist we now can't live without….Jody Carroll, whose textured blues and other roots were dark and haunting…..If there is one artist who embodies roots music to its fullest, it has to be Jody Carroll"
No Depression, Amos Perrine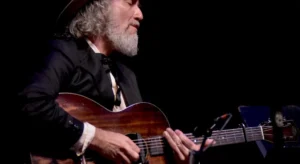 https://cascadebluesassociation.org/wp-content/uploads/2020/10/CBA_Logo_top_main.png
0
0
Shelley Garrett
https://cascadebluesassociation.org/wp-content/uploads/2020/10/CBA_Logo_top_main.png
Shelley Garrett
2022-07-06 17:29:26
2022-07-19 09:19:22
Jody Carroll McMurrian-Friday July 15th at Artichoke Music