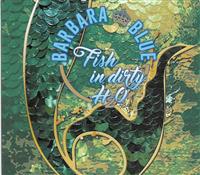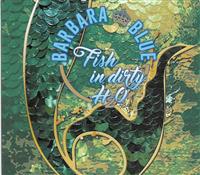 Fish In Dirty H2O
Big Blue Records
The reigning Queen of Beale Street returns with an over the top new recording, Fish In Dirty H2O, that finds her vocals solid and powerful as she stretches through thirteen, mostly original numbers. Recording for the album began in the summer of 2017 as she went into the studio with the assistance of famed producer and engineer master Jim Gaines (Stevie Ray Vaughan, Santana
Fish In Dirty H2O is filled sensational musical gems all highlighted by Blue's voice. Opening the recording she lets us know that "My Heart Belongs To The Blues," and she is quite convincing in informing you that she has tried loving you, but there's no room as the blues have captured her heart. "Dr. Jesus" is a rousing gospel-inflected peace and if you follow his prescription you don't need no co-pay, all you need to do is pray. On the title track she is joined by Memphis' Al Kapone on second vocals and he gives a little rap midway through the number.
Her cover of Eric Hughes "Meet Me In Memphis" is a spot on postcard for the city and just may be a number that could've been written with Blue directly in mind. When you think of Beale Street and the artists that call the street home she is definitely one of the first that comes to mind and along with the barbecue along the Mississippi River meeting her in performance is something that should be first at hand.
Another thing that is unmistaken about Barbara Blue, she doesn't just know the blues, she knows her way around soul as well and she handles it with expert precision. Just give a listen to tracks such as "Walk Away" or "Slow Burn." And speaking of the blues still, the disc closes with a magnificent take of Robert Johnson's "Come On In My Kitchen," and the guitar work of Will McFarlane is dripping with deep in the Delta flavors.
Blue has brought together a bevy of top-tiered musicians for this album. Aside from Will McFarlane on guitar the house band for the disc also includes Dave Smith on bass, Lester Snell on keys and one of the world's best on drums Bernard "Pretty" Purdie. Guests also include the likes of Johnny Lee Schell, Michael Tols and Scott Sharrard on guitars, Mark Narmore on keys and Rick Steff on B3, plus a full horn section and multiple background vocalists pushing everything to the edge and beyond.
Fish In Dirty H2O is a crowning achievement for Beale Street's undisputed Queen. It just may be the best release of her career to date. Start to finish, this one is pure magic.
Total Time: 1:02:14
My Heart Belongs To The Blues / Johnny Lee / Accidental Theft / Dr. Jesus / Meet Me In Memphis / Fish In Dirty H2O / Walk Away / BBQ Man / Wild Women / Gravy Train / That's Working For Me / Slow Burn / Come On In My Kitchen
https://cascadebluesassociation.org/wp-content/uploads/2018/09/Barbara-Blue-CD-cover.jpg
175
200
Wendy Schumer
https://cascadebluesassociation.org/wp-content/uploads/2020/10/CBA_Logo_top_main.png
Wendy Schumer
2018-09-26 14:02:14
2018-09-27 13:10:10
Barbara Blue