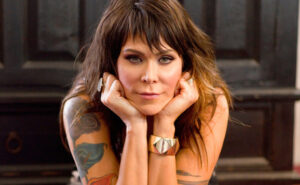 Grammy and Blues Music Award nominated Beth Hart is coming back to Portland for a sold out show at Revolution Hall on Saturday, February 3. Riding a creative tidal wave firing out acclaimed albums and hooking up with the biggest names in music and rocking the house each night with her celebrated burnt-honey voice. Dubbed by The Blues Magazine as "the ultimate female rock star," every live performance gets a standing ovation, because no one knows how to rock the house better than Beth Hart. When she sings clocks stop, hearts dance and neck-hair tingles…it's that compelling!
Beth Hart has recorded and toured with artists such as Jeff Beck, Buddy Guy and Joe Bonamassa, but she is capable of moving a crowd all on her own. She brought the audience at The Kennedy Center at the Buddy Guy tribute to a standing ovation, led by President Barack Obama and First Lady Michelle. And she continues to sell out venues around the world.
Though the show at Revolution Hall, 1300 SE Stark Street, is sold out; tickets can still be found through ticket brokers on-line. Be wary to validate the seller is legit and expect high prices if you choose to go this route. But having the opportunity to Beth Hart in person onstage is well worth it. She is a fiery and mind-blowing entertainer. Show time is 8:00 pm and this is an all ages concert.