Chicago Slickers – Various Artists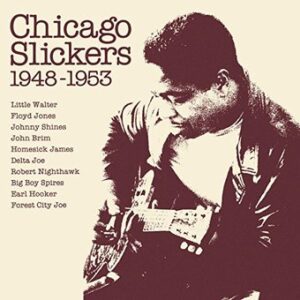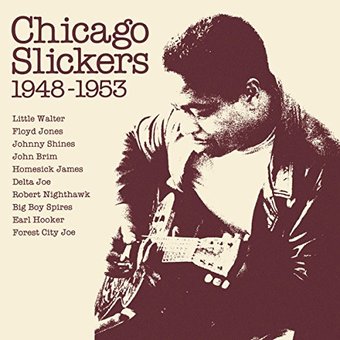 Chicago Slickers
Nighthawk Records 102
"Once I had a woman, who treat me nice and kind. But these Chicago slickers make my baby change her mind." — Guitar Pete Franklin
The charm of many blues anthologies lies in the fact that not only will they introduce you to important recordings you've never heard, but occasionally some you've never heard of. On this account, Chicago Slickers doesn't disappoint.
This nifty little compilation walks us down some of the forgotten side streets and less-traveled back alleys of Chicago's nascent post-war blues landscape between 1948 and 1953. It's a terrific collection and includes several priceless recordings — a remarkable 1950 Little Walter rendition of "Just Keep Lovin' Her" where Muddy Waters and Baby Face Leroy joins Walter for an animated performance that highlights Walter's splendid musicianship. It's easy to see why so many harmonica players look to Little Walter as their patron saint — his playing is at once subtle and majestic.
But "Just Keep Lovin' Her" is far from the only highlight on this anthology. Arthur "Big Boy" Spires's (father of the late harmonica player Bud Spires) performance of Big Joe Williams's "About to Lose My Mind" from 1953 feature a marvelous vocal interpretation. Spires didn't record too many tunes during his performing years — as far as I can tell, he held only three recording sessions, but after after listening to his sublime version of "About to Lose My Mind" it's easy to wish that there had been many more.
If you're looking to explore some rare recordings from the titans of early Chicago blues, this album should be on your itinerary.
Little Walter/ I Want My Baby — Floyd Jones/ School Days, Hard Times — Forest City Joe/
A Woman On Every Street — Little Walter/ Just Keep Lovin' Her —John Brim/ Dark Clouds, Lonesome Man Blues —Earl Hooker/ Sweet Angel — Johnny Shines/ Ramblin', Cool Driver —
Homesick James/ Lonesome Ole Train, Farmer's Blues — Delta Joe/ Train Time — Arthur 'Big Boy' Spires/ About To Lose My Mind — Floyd Jones/ Early Morning — Robert Nighthawk/
Maggie Campbell.