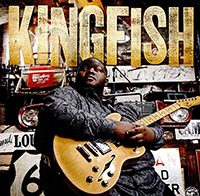 "Kingfish"
Alligator Records     
By Randy Murphy
Is it fair to burden a mere lad of twenty with the suggestion that he already belongs on the short list of great blues guitarists? Probably, but whether it is or isn't, while listening to Christone "Kingfish" Ingram's debut release "Kingfish," it's hard to imagine that if he's not on that list now, he hasn't long to wait.
One quickly runs out of superlatives writing about this splendid album. Perhaps the most impressive aspect is that Ingram knows that the blues is not just about guitar pyrotechnics; there's a subtlety to both his voice and guitar that's often missing in new music nowadays. Regardless of his age, this is the talent and musical perspective of, as Ingram tells us in "Been There Before," an old soul. This tune is one of the highlights of the album, and it exposes Ingram's superb songwriting ability and musicianship. Listen to the plaintive voice and delicate guitar in "Been There Before" and you'll hear that, despite his age, Ingram understands the blues as more than just incendiary rifts — it's about storytelling and songwriting and using emotion and art to alleviate our suffering and elevate our joy. That's the true purpose of art, and the fact that this comes from a twenty-year-old makes this album all the more compelling.
Don't let all of that subtlety fool you though — Ingram's volatile guitar can draw blood. On the album's opening number, "Outside of this Town" he effectively echoes Stevie Ray Vaughan without resorting to outright thievery, and on the slow blues number "Before I'm Old" one hears Albert King's understated influence. Ingram genius is that he never merely copies what he's heard from these masters; he takes their essence and reworks it into something fresh and engaging. It's a neat trick — one other budding blues musicians would do well to learn.
Highly recommended — as in go get it now.
Total Time: 51:22
Outside Of This Town / Fresh Out / It Ain't Right / Been Here Before / If You Love Me / Love Ain't My Favorite Word / Listen / Before I'm Old / Believe These Blues /         Trouble / Hard Times / That's Fine By Me
https://cascadebluesassociation.org/wp-content/uploads/2019/09/Kingfish-CD-cover-e1570499261200.jpg
196
200
Greg Johnson
https://cascadebluesassociation.org/wp-content/uploads/2020/10/CBA_Logo_top_main.png
Greg Johnson
2019-09-27 18:53:36
2019-10-07 18:50:02
Christone Ingram