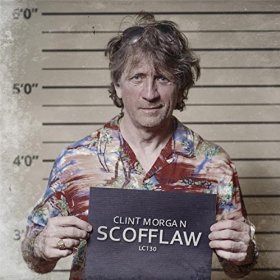 Scofflaw
Lost Cause Records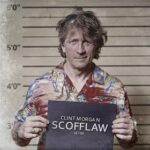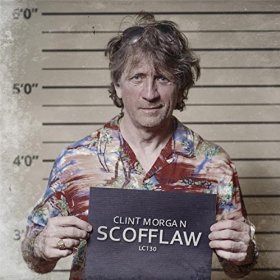 Clint Morgan's sophomore disc, Scofflaw, follows a theme that portrays the lives of society's downtrodden, outcast, and outright bad guys. These are people with often very little remorse, living on the edge, and given the option would probably do things the same way all over again. How else would you explain titles such as "I Love Robbing Banks" or "Bad Man Blues"?
Morgan is a prolific piano player as well as a songwriter. He has been an instructor and performer at the Pinetop Perkins Foundation Workshops in Clarksdale, Mississippi and he plays a blues and boogie-styled piano. Yet his stories on Scofflaw take a route through blues, alt-country, and even a little gospel. His vocal delivery is sometimes reminiscent of Johnny Cash or Tom Waits — almost deadpan, but often with humorous and sometimes vivid descriptions.
The cast on Scofflaw is also an astonishing group. Guest vocalists include both Grammy winner Maria Muldaur and Blues Music Award winner Diunna Greenleaf. The musicians backing Morgan on the album is superb. The session players' credentials read like a who's who of some of the biggest names going that they've worked with, from Lucinda Williams, Emmylou Harris, Dwight Yoakum, Loretta Lynn, Johnny Cash, kd Lang, Vince Gill, and more.
But, this collection of stories reflects those from the wrong side of the tracks. And Morgan's sense of phrasing in his lyrics depict the characters into believable figures. In "I Got A Gun," a man feels he's become so empowered that when somebody calls him scrawny butt, he reacts by shooting him in the gut. Or the fast-paced run in "A Sackful of Cash" where he states that Jesus loves me this I know for the Bible tells me so, but I bet that Jesus is pretty mad seeing how I turned out this bad. Of course he has this running through his mind since he's running from the law with a sackful of cash and a body in the trunk. Or the judge giving a sentence of five years so that maybe he'll learn the lessons he's been taught in "Eastham Farm." Even the cover songs Morgan includes are based on reckless abandon such as Bessie Smith's "Send To the 'Lecrtic Chair" or Johnny O'Keefe's "Wild One."
Well, maybe there is a bit of remorse in the thoughts of the protagonists by the time Scofflaw reaches towards the end, as the songs begin to speak directly to the Lord seeking redemption in numbers like "Softly And Tenderly, Jesus Is Calling," "I Remembered You " and Muldaur's "I Done Made It Up In My Mind." And the inclusion of "This Little Light Of Mine" opening and closing the album also may show that there is a hope of salvation that these bad men may be wishing for after all is said and done.
Scofflaw is truly a prime example of Americana at its best. Deeply rooted in folklore and legend, bringing images from the old west and the depression years up into modern times. The characters are timeless and this is an album that will continue to grow on you with each subsequent listen. Each number is like watching its own movie. Spectacular story-telling done right.
Total Time: 1:15:42
This Little Light Of Mine (Intro) / Waco / Wild One / I Got A Gun / I Don't Know Where To Turn / Eastham Farm / DB Cooper Blues / I Love Robbing Banks / Bad Man Blues / Thief In the Night / Wanted Man / The Face In The Mirror / A Sackful Of Cash / Send Me To The 'Lectric Chair / Softly And Tenderly, Jesus Is Calling / I Remembered You / I Done Made It Up In My Mind / This Little Light Of Mine (Outro) / I Got A Gun (Alternate Take)
https://cascadebluesassociation.org/wp-content/uploads/2016/05/Clint-Morgan-CD-cover.jpg
280
280
Wendy Schumer
https://cascadebluesassociation.org/wp-content/uploads/2020/10/CBA_Logo_top_main.png
Wendy Schumer
2016-05-25 13:16:36
2016-06-01 09:05:36
Clint Morgan