Curtis Salgado and Alan Hager
Rough Cut
Alligator Records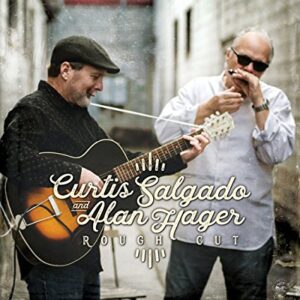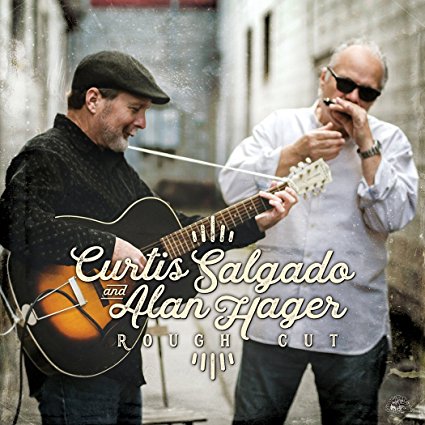 With the release of Rough Cut, the world is for the first time hearing what those of us in Portland have known for many years, Curtis Salgado and Alan Hager are a natural fit for acoustic blues. The two have been long time friends and have performed together quite a bit at home throughout the years, long before Alan joined Curtis' band performing his amazing deliveries of soulful blues that have garnered multiple Blues Music Awards. On tour with the band Alan catches the ears of the audience with his solid slide and fingerpicked guitar, but in an intimate acoustic setting this pair truly shine within their love of the blues.
Curtis and Alan took a day off from their busy touring schedule and went into Portland's Falcon Studios where they laid down the tracks for the new album Rough Cut in one, unrehearsed session. Honestly though, these guys have been playing so much of this material with one another for so long that it's like the back of their hands — they know it and each other inside and out. Thirteen songs, including six originals, and all are blues perfection, or as Alan states it "American Classical Music." The two provide the majority of instrumentation over the selections with Alan's amazing guitar work and Curtis not only putting out his devastating harmonica prowess but also throwing down some piano work on "Hell in a Handbasket." A handful of side musicians make an appearance: Keith Brush plays bass on three tracks; Jim Pugh on keys and Jimi Bott appear on one; LaRhonda Steele takes us to church on number singing with Curtis; and drummers Brian Foxworth, Russ Kleiner and Carlton Jackson fill in for four selections.
The covers they present are more than just readings or reinterpretations of classic material from the likes of Muddy Waters, Elmore James, Big Bill Broonzy, Sonny Boy Williamson, Son House and Reverend Robert Wilkins. They are living testimonies in Curtis and Alan's hands and full of life that would've made this recording more than worth hearing alone. But they're paired with new songs that are well-executed in performance and lyrically filled with emotion, passion and story-telling of the first order.
The album opens with "I Will Not Surrender." Curtis sings about the tribulations that he has experienced throughout his life, but no matter how many cuts he may have to endure, he's not giving up. And Alan's strong string work stresses the point nicely. On the barrelhouse number "One Night Only" the theme addresses just what can happen when situations take somebody in the wrong direction for just one time. "I Want My Dog To Live Longer" has been a popular number for Salgado for some time now, and it always strikes the heart strings. Among everything in his life that he could wish for, nothing would mean more to have his best friend live share his life with him longer.
Alan Hager offers his vocals on Robert Wilkins :Long Train Blues" and his slide playing is incredible on his own composition, the instrumental "The Gift Of Robert Charles."
The year is only a couple weeks old as Rough Cut is being released, but there is no doubt that this is one of the finest discs that we're going to hear this year or most any year. Every single number presented is of the highest caliber. Acoustic blues just doesn't come any better than this. Curtis Salgado and Alan Hager have created a masterwork. Don't just sit there, run out and buy it now!
Total Time: 49:51
I Will Not Surrender / So Near To Nowhere / One Night Only / I Want My Dog To Live Longer (The Greatest Wish) / I Can't Be Satisfied / Too Young To Die / Depot Blues / Morning Train / You Got To Move / Hell In A Handbasket / Long Train Blues / The Gift Of Robert Charles / I Want You By My Side