Larkin Poe
Peach
Tricki-Woo Records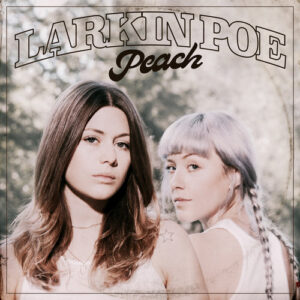 Atlanta's Larkin Poe are sisters Rebecca and Megan Lovell and they're crossing the lines between blues and rock with determination. Whether delivering hard hitting originals or taking on new scopes with traditional pieces, they are setting their own boundaries and it's both modern and innovative. Both are multi-instrumentalists and reading the liner notes it appears that they perform everything themselves on this stunning disc, Peach, using multiple program layers involving guitars, banjo, keys, drums, percussion, and their harmonious voices.
The album alternates throughout between recognizable blues with heavier rocking numbers that may seem more at home with indie rock listeners. But the sisters show their depth in talent with their interpretations of the classic country blues pieces that follow suit with songs like Robert Johnson's "Come On In My Kitchen," whereas Leadbelly's "Black Betty" follows more in line with the 1970s Ram Jam rocking cover of the tune. Son House is twice covered, first with "Preachin' Blues" that is paced with banjo and slide guitar; and then "John The Revelator" is extremely haunting with its guitar steadily becoming more piercing as the track develops.
But moving between these recognizable covers and their own originals may come as a shock in their approach. The girls know how to rock. And they also have a sharp knack for songwriting with their own numbers such as "Cast 'Em Out," "Pink & Red" or "Look Away" demonstrate. As stated in the opening lines of "Wanted Woman," you ain't gonna see it coming. They're on their own path and catching a great deal of attention defying genres and various audiences.
Total Time: 32:01
Come On In My Kitchen / Freedom / Black Betty / Look Away / Preachin' Blues / Cast 'Em Out / Pink & Red / John The Revelator / Wanted Woman – AC/DC / Tom Devil