Dana Fuchs
Love Lives On
Get Along Records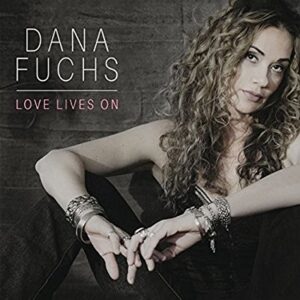 Dana Fuchs' Love Lives On is her initial album on her own label, Get Along Records. This is the blues with a hand heavily in soulful rock and a bit of Americana. The power of her voice is in full force with the backing of a talented band and the soul tinge of these mostly self-penned selections shine through magnificently. There is a lot of personal reflection in Fuchs' music, baring testimony to her emotions about those demons she has fought following the loss of family members and the overcoming of that pain with the birth of her child.
The title track, "Love Lives On," is an understanding that no matter what happens, life will continue. It is a theme brought up again and again on the album, "Battle Lines" and "Same Sunlight" while the covers of Otis Redding's "Nobody's Fault But Mine" is a self-admission that some things are brought about by yourself. The Johnny Cash classic "Ring of Fire" is handled acoustically, closing out the disc with her own impassioned take that offers a still even deeper feeling from within her own heart.
Recorded in Memphis under the production of Kevin Houston (North Mississippi All Stars, The Bo-Keys, Ian Siegal), the band includes long-time Stax Records drummer Steve Potts and Hi Records alum Reverend Charles Hodges on organ. Rounding out the group are guitarist Jon Diamond (who also co-wrote a number of the selections with Fuchs), bass player Jack Daley, Felix Hernandez on congas, Glenn Patscha on keys, Mark Franklin and Kirk Smothers on horns, and Eric Lewis handling pedal steel for a number. Dynamic backing vocals are courtesy of Susan Marshall and Reba Russell
Love Lives On is a splendid recording that gives witness to Fuchs in the most soul-baring offering of her career to date. It shows that from the pain of near defeat one can rise again to the top. It is a new beginning for her and a step forward that shows her importance in voice and lyric that has something to say and should be heard.
Total Time: 40:36
Backstreet Baby / Nobody's Fault but Mine / Callin' Angels / Sittin' On / Love Lives On / Sad Solution /  Faithful Sinner / Sedative / Ready to Rise / Fight My Way / Battle Lines / Same Sunlight / Ring of Fire