Eric Clapton
Live In San Diego (with special guest JJ Cale)
Reprise Records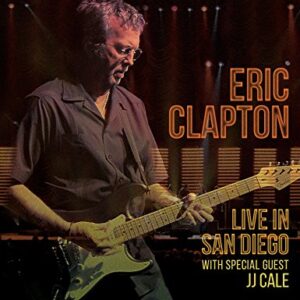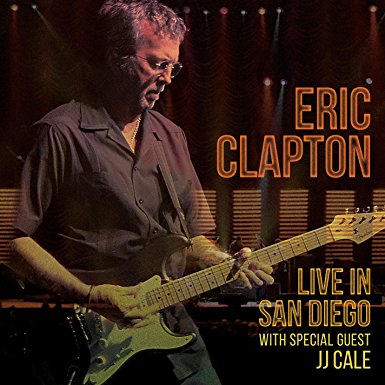 Recorded in 2007 in San Diego, this is an all-star affair with Eric Clapton joined on stage by stellar artists that include guitarists Doyle Bramhall II and Derek Trucks, the late JJ Cale joining for a full set of his own music, and even Robert Cray for a number. They are highly complimented by Willie Weeks on bass, Tim Camron and Chris Stainton on piano, and Steve Jordan on drums. You just know with this pack of masters that you're in for what was surely an incredible night.
This show is Clapton's thirteenth live recording and it is heavily filled with material from Derek & The Dominos and Cream. The former band's music finds Derek Trucks superbly filling in the slide greatness first delivered by Duane Allman so many years ago. This is an Eric Clapton show, so you know that there will be nods to the bluesmen that influenced his career and you'll find covers of Robert Johnson, Albert King, and Jimi Hendrix all included. Of course JJ Cale was also influential to Clapton as well as a good friend. The pair had released their Grammy Award winning joint album The Road To Escondido the previous year. Cale, introduced by Clapton as a gatecrasher, appears for five numbers mid-show including a trio from that album as well as his compositions "After Midnight" and "Cocaine" that Clapton had huge success with himself.
The true highlights of this performance comes with the three guitarists sharing slick riffs between each other. It comes across brilliantly on tracks like Hendrix' "Little Wing," The Dominos' "Anyday," and Blind Willie Johnson's "Motherless Children" first heard on Clapton's 1974 album 461 Ocean Boulevard. Robert Johnson's "Little Queen Of Spades" comes in at a whopping nearly seventeen-and-a-half minutes of greasy bluesy goodness. Trucks slide guitar on the instrumental portion of "Layla" is sensational and the show closes out with Robert Cray joining in with the band for a burning run at "Crossroads."
This is Eric Clapton as you want to hear him. Live on stage with all the musicians inspiring one another. A stellar cast that you may never see together again during a concert tour for the ages.
The twin-CD release of this concert came out in September and has recently been joined by a DVD/Blu-Ray available on the market that includes footage of Clapton and Cale rehearsing two of their numbers for the show.
Total Time: 1:47:49
Tell The Truth / Key to the Highway / Got to Get Better in a Little While / Anyday / Anyway the Wind Blows / After Midnight / Who Am I Telling You? / Don't Cry Sister / Cocaine / Motherless Children / Little Queen of Spades / Further On Up the Road / Wonderful Tonight / Layla / Crossroads