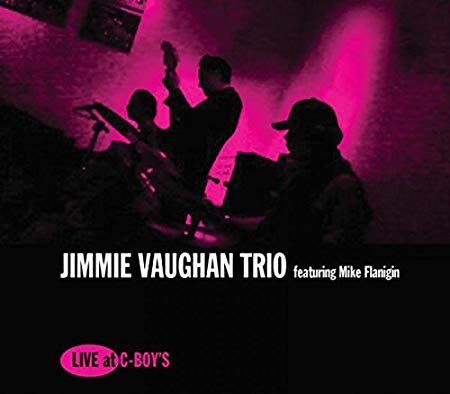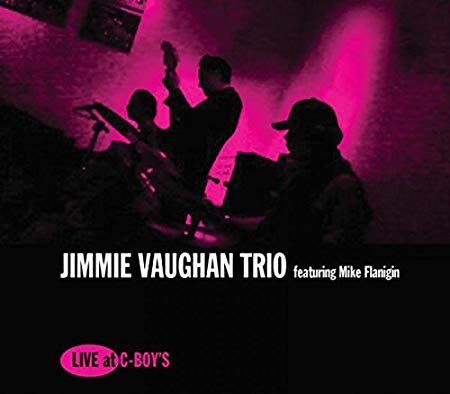 Live at C-Boy's
Last Music Company
By Greg Johnson
If you're ever in Austin and checking out the music scene (what else would you be there for, right? Okay barbecue, too), head over to the South Congress and just a few blocks away from the famous Continental Club you'll find another one of the city's not to miss venues, C-Boy's Heart & Soul. Just looking at their calendar you're going to see names on a regular basis like Paul Oscher, Rosie Flores, Miss Lavelle White, and quite often the weekends will be featuring the Jimmie Vaughan Trio with Mike Flanigin on keys (usually on their calendar you're going to see it listed as the Mike Flanigin Trio featuring Jimmie Vaughan).  It's a bare-boned trio that lays down some of the smoothest grooves going and lucky for any us Jimmie Vaughan fan they've released this must-have recording, Live at C-Boy's.
Nowadays when the group appears you're going to see renowned drummer George Rains filling out the group. But he only recently took on the spot following the death of Barry "Frosty" Smith shortly after the tracks to this album were recorded. Smith was a powerful drummer as seen here rounding out the magical B-3 work by Flanigin and Vaughan's always tasteful guitar runs.
It's a little bit jazzy, it's a little bit bluesy, but man does this disc swing with great music. Opening with The Dovell's classic "You Can't Sit Down" and rolling through to the ending take of Junior Walker's "Cleo's Mood," it is one fantastic turn after another, never letting up with the intensity or the perfection. The next best thing to sitting in the small club with this trio is found right here. The only complaint on my part, it's too short. I wish it could go on and on, but I going to relish in what it has, over and over again.
Total Time: 36:02
You Can't Sit Down / Hey Baby / Can't Buy Me Love / Saint James Infirmary / Come On Rock Little Girl / Dirty Work At The Crossroads / Frame For The Blues / Cleo's Mood
https://cascadebluesassociation.org/wp-content/uploads/2019/02/Jimmie-Vaughan-Trio-CD-cover.jpg
394
450
Greg Johnson
https://cascadebluesassociation.org/wp-content/uploads/2020/10/CBA_Logo_top_main.png
Greg Johnson
2019-02-28 05:10:02
2019-03-28 11:48:21
Jimmie Vaughan Trio