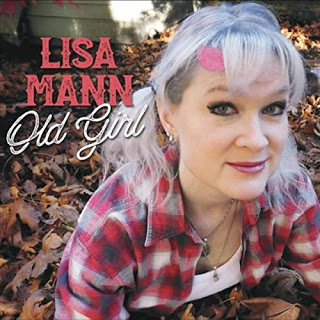 Lisa Mann
Old Girl
JayRay Records 
Review by Greg Johnson 
Not to be one to sit idle, even during times of pandemic, Portland's Blues Music Award-winning bassist has released two discs over the past months of shutdown. The first, an album from her alter-persona White Crone titled The Poisoner, is a step back to Lisa's first love for metal music, which she delivers spot on. Known primarily as a blues musician internationally, she also found the time to put together a five-song EP that also is a first-class production and will definitely thrill fans of Lisa's with little doubt. 
Her bass prowess is unquestionable as are her vocals, which can bring forth impassioned power or bring you to tears with her soft and touching emotions. Behind her is her full-time guitarist from her band, Jason "JT" Thomas, while drum duties are split between Michael Ballash and Dave Melyan, who both work and tour with her regularly. Louis Pain guests on a couple of tracks on organ and a stellar cast of vocalists backs her, too: Sonny Hess, Brian Foxworth, LaRhonda Steele and Arietta Ward – basically Portland's A-Team. 
Of the five tracks, four are original numbers. She opens with the title track, a beautiful ballad in which  Lisa reflects on not being in her 20s anymore, but as an "old girl" (she's definitely not) she is still making do. It's hard to think that age is playing a role in her mind or how others might see her. JT provides a remarkable guitar break that adds to the ballad's emotion. 
"It's The Monkeys Or Me" is a humorous number about a relationship with a man who ran a monkey show and his house is filled with real live monkeys running the home. It may be cute at first, but they start to drive her crazy leading to the ultimatum, it's either those monkeys or me. 
On "Everybody's Making Money" Lisa looks at the music industry and it seems that she is putting out far more money than she brings in. Another superb guitar solo from JT here. The closing track pays homage to the musicians who came before in our area and paved the way for the artists who followed in their footsteps, never to be forgotten. 
The fifth song included is a terrific cover of Sister Rosetta Tharpe's "That's All." Lisa has taken part in a handful of tribute shows to the guitar great, again replicated nicely by JT while Lisa growls her way convincingly, letting everybody know that people may in their own means think that they're right or doing what needs to be done, but they really don't know the facts at all. 
Old Girl is Lisa Mann at her very best. The only drawback on the album is that it is way too short and leaves you craving more. Let her artistic juices flow, we can only anticipate what may be following in this one's footsteps. This is one disc that you do not want to miss out on — buy it now! 
Total Time: 21:22 
Old Girl / It's The Monkeys Or Me / Everybody's Making Money / That's All / Around Here 
https://cascadebluesassociation.org/wp-content/uploads/2020/09/Lisa-Mann-CD-cover.jpg
320
320
Shelley Garrett
https://cascadebluesassociation.org/wp-content/uploads/2020/10/CBA_Logo_top_main.png
Shelley Garrett
2020-10-01 11:59:51
2020-10-02 16:48:43
Lisa Mann – Old Girl – JayRay Records