Mick Kolassa & Mark Telesca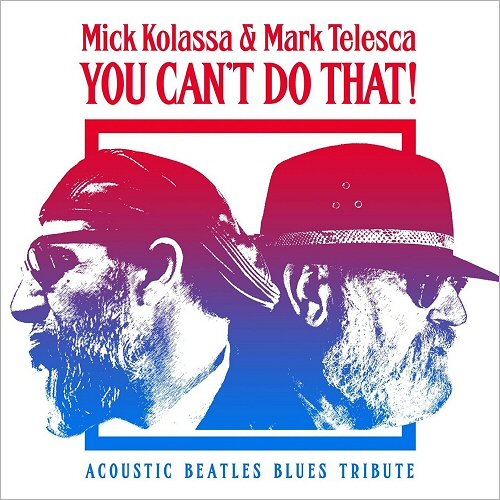 You Can't Do That! Acoustic Beatles Blues
Swingsuit Records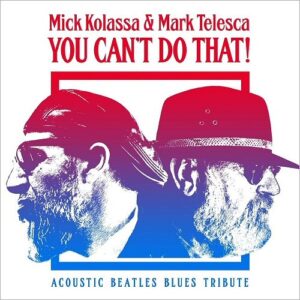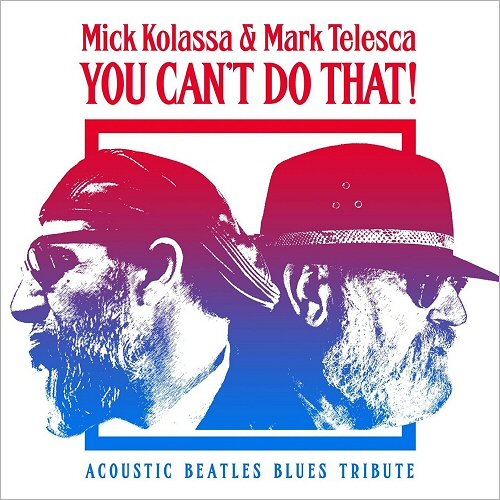 The music of the first British Invasion had a very distinct background based on influence from American blues and popular artists of the time. This is true with most of the bands that broke out, and The Beatles were no exception. And since theirs is perhaps one of the most loved and best-known collections of songs it's easy to imagine when a group of musicians casually get together, just sitting facing each other while swapping a guitar back and forth and playing favorite songs that come to mind, The Beatles are likely to come up. Of course when you have two musicians get together like Mick Kolassa and Mark Telesca who are self-proclaimed Beatles fanatics, it's just destined to occur. And being the true bluesmen that they are, they're going to spin that flavor into the mix, too. This is exactly what happened with this pair and the more Beatles songs that they brought up, played in this bluesy manner obviously made them smile. And like an epiphany, the idea jumped into their minds to take this music into the studio.
Along with good friends Jeff Jensen, Eric Hughes, James Cunningham, Mark Franklin and Tommy Boroughs they dropped in at Cotton Row Studios in Memphis with a collection of songs from John Lennon and Paul McCartney and pieced together a work that is truly magical. The Beatles molded to the blues is not far-fetched when you think about it, and one listen to the eleven tracks offered is quite convincing that this pattern does work. Unlike a lot of tributes to The Beatles, they did not focus on the hits and the tracks are each given just the right mix to offer fresh takes while still being true to the originals.
Being true to that first sit-down trading the guitar back and forth, they recorded the album completely acoustic. It adds to the authenticity of the blues feeling and the guitar work on songs like "Can't Buy Me Love," "Fixing A Hole," "You Can't Do That" or "Why Don't We Do It In The Road" for example all strike home with a Delta-like emphasis. The blues can take a variety of directions, too, and that is not lost with the interpretations of some of these songs. Mark Franklin delivers a very distinct Bourbon Street Dixieland feeling  on "I'll Cry Instead" and later with a muted flugelhorn enhances "She's A Woman" from the original quick-paced jumper to a slow blues. That slow down direction also works to perfection on the latter half of "Mean Mr. Mustard/Polythene Pam" with Telesca taking the brisk original to an emotional and haunting description of the titular character. Tommy Boroughs fiddle helps close out the album in a bluegrass delivery on "She Came In Through The Batroom Window."
Some ideas are just natural fits. Taking on The Beatles in the blues direction that Mick Kolassa and Mark Telesca have done is exceptional. It works. There have been many variations of recreating The Beatles in tributes throughout the years, but this is one of the best. Just like Mick and Mark surely did when they first sat together tossing out favorite songs of The Beatles, this one will make you smile, too. Over and over again.
Total Time:  37:04
I'll Cry Instead / Can't Buy Me Love / I Feel Fine / Fixing A Hole / You Can't Do That / Got To Get You Into My Life / Lady Madonna / Why Don't We Do It In The Road / She's A Woman / Mean Mr. Mustard – Polythene Pam / She Came In Through The Bathroom Window
https://cascadebluesassociation.org/wp-content/uploads/2017/08/Mick-Kolassa-Mark-Telesca-CD-cover.jpg
500
500
Wendy Schumer
https://cascadebluesassociation.org/wp-content/uploads/2020/10/CBA_Logo_top_main.png
Wendy Schumer
2017-08-28 17:10:27
2017-08-28 17:10:27
Mick Kolassa & Mark Telesca