Ramblings On My Mind – October 2020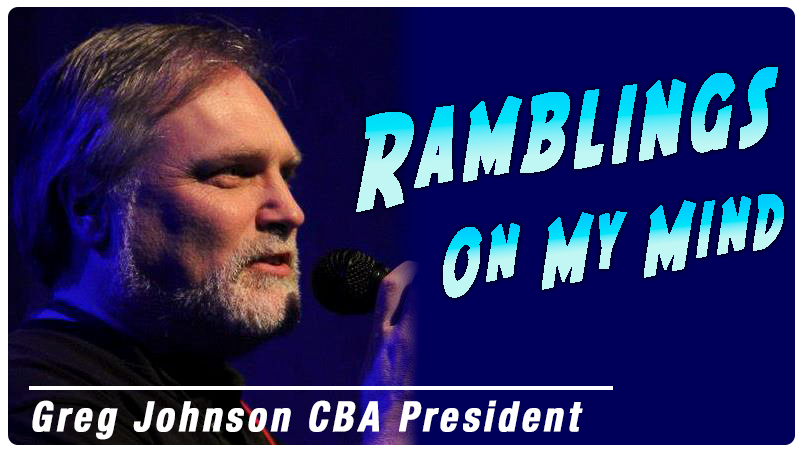 Ramblings On My Mind – October 2020
Greg Johnson, CBA President 
We may as well face it. 2020 is pretty much finished when it comes to the Cascade Blues Association being able to hold any meetings or events. As Portland continues to be held in phase one of the Covid shutdowns, we simply are unable to hold gatherings in an atmosphere where we can bring in the numbers of attendees that we're used to and to make it financially feasible to do so.  
Events like the Muddy Awards and our annual Holiday Party normally bring in well over 100 people; the Muddys usually are close to sell-out events since we moved to the Alberta Rose Theatre, which in itself is still closed to holding attended events. Venues like The Moose Lodge, where we hold the Holiday Party, or The Eagles, where we have held our meetings, are under different restrictions because they are not considered full-time restaurants and gatherings must remain much smaller under the guidelines. 
Without being able to meet or hold events it also means that our funds have dried up other than memberships retained. Events like the Muddys and the Holiday Party are very expensive to put on and it would be very negligible for us to try to have them without the income coming in at this time, even if we were able. We would definitely try to at least hold the Holiday Party if we were able, as the venue expense is not a part of the location being donated to us. All we can at this point is to hope that 2021 sees a turnaround and we're able to start up our normal activities once again. 
That doesn't mean that the CBA wasn't active during the shutdown period. We collaborated with the Portland Parks & Recreation to provide live music for the Kids Lunch Program. Though this was limited to only the kids and families picking up the lunches, it did mean paid performances for the musicians. We had about 10 of these and planned on doing evening events where the public would've been invited, but the city shut down the events for the parks. We had no control over this decision and had several acts lined up for these shows. The funds had been raised through an online campaign supplied by donations. These donations were distributed to the acts who were scheduled, but  unable to play. 
Also with the shutdown on the pandemic, we have seen the loss of many people. Not all were victims of the pandemic, but their loss doesn't hurt any less. One of those we had to say goodbye to was our good friend Jay Lawhon. Jay ran the sound company JBL Sound that we have used for many years at our meetings and events. He was a main part of many festivals and shows that you have attended, supplying that perfect sound for events like the Waterfront Blues Festival, Bronze Blues & Brews, the Gorge Blues & Brews and so many more. Without Jay and his team, our CBA Anniversary shows, the picnics, Journey to Memphis competition, Holiday Party and many of the Muddy Awards would never have come across at all. Jay was somebody I always relied on; if anything was not going right, my production mode persona would come close to panic. But Jay was always there to make things work right and help calm my nerves. It's tough to try to replace somebody like that. You simply can't. There are hardly enough words to say how much we will miss Jay Lawhon. 
It is also with a deep heartache that I have to announce that Merry Larsen has decided to step down from her position of Treasurer. As with many of us, trying to juggle personal life while volunteering for what could  be seen as a full-time position is not an easy task, and after a time it can become a burden. Merry has given the CBA many years in not only the Treasurer position, but on the board as an at-large member — not once, but twice during the many years we have operated. Merry may be stepping down from her full-time position, but she plans on helping the CBA as a volunteer for any events or programs she may be able to fill in. So, it's not goodbye as we will definitely see her helping the CBA and working backstage at the Waterfront Blues Festival. We lovingly wish her nothing but happiness and success. Thank you, Merry, for all you have accomplished as part of the CBA.  
With that, we wish that whoever may wish to help with the CBA Board of Directors to give it some thought and let any of our officers know of your interest. We have not had any meetings for some time in person due to the shutdown and many of us are not open to meeting indoors just yet. But we will be getting back together soon and need qualified individuals wanting to give their time and help. Please note that if you are interested in a position such as the Treasurer role, you should have knowledge of financial accounting and tax preparation. 
A huge thanks go out to all of our current Board Members. Times have been hard and running the business online is not always the easiest, either. They have continued to keep up and to have open minds to how we might be able to help our music community and keep our organization alive and vital. Bear with us, things will turn around eventually and we will be there for our members, musicians and venues once again. Thanks go out to every one of you for your continued support. 
https://cascadebluesassociation.org/wp-content/uploads/2017/05/Ramblings_2017.png
453
805
Shelley Garrett
https://cascadebluesassociation.org/wp-content/uploads/2020/10/CBA_Logo_top_main.png
Shelley Garrett
2020-10-01 12:24:18
2020-10-01 12:24:18
Ramblings On My Mind – October 2020