Sweet Pea Atkinson
Get What You Deserve
Blue Note Records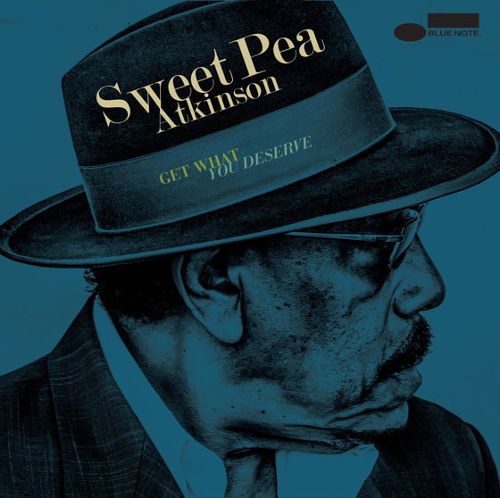 Hillard "Sweet Pea" Atkinson was the former vocalist with the 80s-90s band Was (Not Was) and more recently with The Boneshakers, he has also collaborated with the likes of Kris Kristofferson, Bonnie Raitt, Lyle Lovett, Bob Seger and Bob Dylan. Get What You Deserve is the soulful vocalist's first release under his own name since 1982's Don't Walk Away and it is filled with funky, soulful, bluesy goodness. The album was produced by his old boss Don Was along with Keb' Mo'. It explores many long-time influences on the 72-year-old singer, with ten covers from artists such as Bobby Bland, Johnnie Taylor, Bobby Womack, and James Brown. And with his gritty soulful voice, he is the perfect match to represent these past musicians as both a tribute to them and as a more than capable peer.
Atkinson has great accompaniment throughout the disc, including legendary drummer James Gadson, Joe Sublett and Mindi Abair on sax, Michael Bearden on organ, bass by Reggie McBride and Don Was, and The Boneshakers' Randy Jacobs on guitar.
Takes on songs like Freddie Scott's "Are You Lonely For Me Baby"and "Am I Grooving You," Johnnie Taylor's "Last Two Dollars" and Bobby Bland's "Ain't No Love In The Heart Of The City" are all done to perfection. As are just about everything else found on this spectacular disc from start to finish.
Sweet Pea Atkinson has been performing mind-blowing vocals since the 1970s, mostly with other artists. It's long over due for him to be stepping out as his own true master of classy blues and soul. This disc cannot be recommended enough!
Total Time: 39:35
Are You Lonely For Me Baby / Slow Down / Am I Grooving You / Ain't No Love In The Heart Of The City /  You Can Have Watergate / You're Welcome, Stop On By / Just Lookin' / Just Another Lonely Night / Last Two Dollars / Get What You Deserve