Tas Cru – Broke Down Busted Up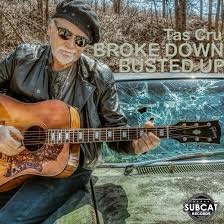 Tas Cru
Broke Down Busted Up
Subcat Records
Review by Anni Piper
This is the first acoustic album I have heard from a festival favorite who is known for his electric guitar prowess.
The pandemic affected every aspect of the entertainment industry. Cru has certainly taken inspiration from the isolation, his original compositions coming across as hopeful yet poignant. An artist who won't be pigeonholed into any particular style, it's interesting that Cru has chosen a time of modern apocalypse to release a rootsy acoustic album. After all, it's still possible that we all end up in some kind of "Walking Dead" scenario in which society crumbles and there's no electricity. So for me, this is a perfectly logical choice.
They say never judge a book by its cover, but this album cover tells me a lot about what I'm about to hear. Cru cradles an attractive acoustic guitar, leaning casually against a rust bucket with a bullet-hole riddled windshield.
The personality-filled performance of Anne Harris highlights many of these tracks. Clearly, she's been down to Georgia and come back with a golden fiddle. The title track is the most radio friendly, a funky little number that showcases the talents of the entire ensemble.
Speaking of the entire ensemble, Mary Ann Casale co-wrote some of these numbers and is featured on vocal and dulcimer. Dave Liddy on keys, Garry Loiaono on guitar, Andy Hearn on drums, and bassists Mike Lawrence and Bob Purdy all bring their strengths to this recording.
It's engineered and mixed by Ron Keck, who is also featured as a percussionist on the album. Being no stranger to the studio myself, I have found the engineer often ends up making this specific contribution to the recording. The drums sound so fantastic that I wasn't surprised to find Keck is a world champion snare player. He's mixed this recording with the kind of love and care that Grandma mixes into your favorite cookies.
I did most of my listening as I was driving and I deem it a most suitable soundtrack to take your mind off the grind. Tas Cru has delivered an album perfect for cruising.
Total time: 46 minutes
Where Do We Go / Broke Down Busted Up / Turn On the Light / River of Insanity / Be My Strength / All Stays the Same / You're the Real Deal / Stay Home Blues/ So Damn Hard to Like / Henry / Write Me My Own
https://cascadebluesassociation.org/wp-content/uploads/2021/10/tas-cru.jpeg
224
224
Shelley Garrett
https://cascadebluesassociation.org/wp-content/uploads/2020/10/CBA_Logo_top_main.png
Shelley Garrett
2021-10-31 09:55:54
2021-10-31 09:58:02
Tas Cru – Broke Down Busted Up