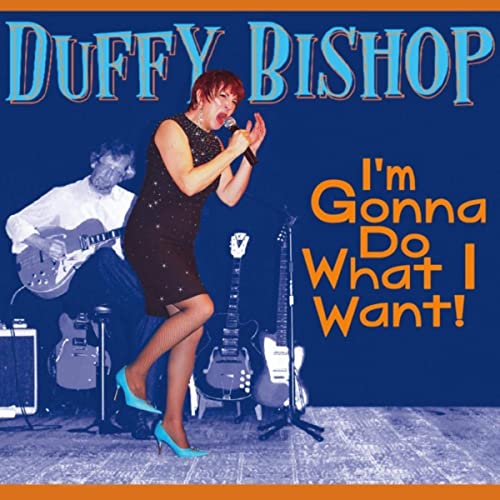 I'm Gonna Do What I Want!
'Lil Spinner Records 
"I'm Gonna Do What I Want!" Is not only Duffy Bishop's first album since relocating to Florida, it's her first recording in five years. But it is everything that you'd expect, and maybe even more. Her whole personality comes out in every number. It's fun, it's whimsical and it's pure Duffy Bishop through and through. 
Right from the get-go, with the humorous title track, you find yourself being told by the narrator that she's going to do exactly what she wants. Whether it's eating spaghetti for breakfast, ice cream for dinner, or sleeping in her bed with all the stray cats and dogs in the neighborhood. Of course, the storyteller is only 6 years old. Typical penmanship from Duffy and her guitar-playing husband, Chris Carlson, and perhaps something only Duffy herself can bring to life. You have to admit, when it comes to the blues they certainly can have fun with their songwriting when they choose. 
A couple of numbers that have been fan favorites in her performances for a few years now have finally made it onto an album. The revision of Muddy Waters' "She's 19 Years Old," is reworked by Carlson into "69 Years Old," where the miracles of modern medicine have brought new life to the older lover as he now has ways like a high school boy. The other is her take on the Lesley Gore classic, "You Don't Own Me." Again, like the title track, this is a song that Duffy totally owns in her own right and it has become a signature song for her. 
The cover of Paul deLay's "Love Grown Cold" has been tastefully presented and Duffy does a little mouth trumpet on the band's drummer's penned "The New Song" that adds a little light jazzy feel to close out the album and features nice mellow guitar from Chris. 
Five years may have been a while for us to wait for this new disc from Duffy Bishop, but despite a move across the country, a new band and the wait, "I'm Gonna Do What I Want!" is a wonderful release that more than makes up for the gap in time. Smiles abound listening to Duffy and there are plenty of those to be found here. 
Total Time: 39:53 
I'm Gonna Do What I Want / Love Grown Cold / 69 Years Old / Must Be My Fault / You Don't Own Me / One Time / My Road Is Not Wide / Whistle Callin' / The New Song 
 by Greg Johnson
https://cascadebluesassociation.org/wp-content/uploads/2020/05/Duffy-Bishop-cover.jpg
500
500
Shelley Garrett
https://cascadebluesassociation.org/wp-content/uploads/2020/10/CBA_Logo_top_main.png
Shelley Garrett
2020-05-31 17:46:19
2020-06-27 12:50:54
Duffy Bishop