Blue Eyed Soul Volume 1
Hunters Records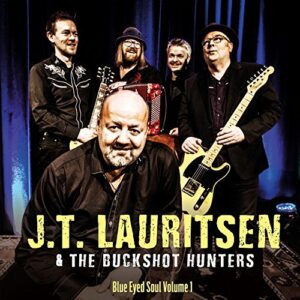 If you want to listen to a true-dyed soulful recording, take a look at JT Lauritsen & The Buckshot Hunters' Blue Eyed Soul Volume 1. If you're unfamiliar with Lauritsen, this album is his eighth recording for his own Hunters Records label since 1995 and he plays terrific accordion, Hammond B-3 and harmonica as well as vocalizing such soulful lyrics. And did I mention that he and the band are from Norway?
For a European artist you may be surprised at just how well he brings across not only soul, but down in the alley blues, zydeco, and Tex-Mex, all sung in a second language for him, English. Everything comes across authentic, because he has been plying this trade for many years and has appeared and headlined at festivals around the world, including competing in the International Blues Challenge, making the semi-finals. He is more than comfortable and perfectly at home delivering the blues.
Aside from Lauritsen, the rest of the band features guitar players Ian Frederick Johannessen and Arnfinn Torrisen, Jon Grimsby on bass and Morten Nordskaug on drums and percussion. The compositions of the original songs are clever and catchy, with note to "You Better Believe," "Stay With Me All Of The Time" and "Back Pain Shuffle." The band covers a handful of songs including Toussaint McCall's "Nothing Takes The Place Of You" and Danish bluesman Mike Andersen's "Anything I Can Do."
Lauritsen has spent some time in the United States and has made friends with numerous artists. He is joined by several on the album, including Dave Fields and Mike Zito on guitars, and Deanna Bogart and Jimmy Carpenter blowing saxophones. Both Fields "Anything I Can Do" and Zito's "Sweet On Me" are covered with each playing and singing back-up vocals to Lauritsen.
JT Lauritsen & The Buckshot Hunters are one of Scandinavia's premier blues bands. They're just as terrific on stage as they are on album. If you're unfamiliar with blues music from this part of the world, this is a great kick-off spot. You're going to be surprised at what you may have been missing.
Total Time: 39:15
Anything I Can Do  / Back Pain Shuffle / Stay With Me All The Time / Nothing Takes The Place Of You /You Got Me Down / Please Help Me Now / You Better Believe / Lovers Holiday / Be My Girl / Sweet On Me